COMMUNITY KNOWLEDGE AND PERCEPTION ABOUT COVID-19 VACCINE AT UPT PUSKESMAS LIPAT KAIN KAMPAR DISTRICT
Abstract
Coronavirus Disease 2019 (Covid 19) is an infectious disease caused by a variant of the corona virus that can be prevented by vaccination, this disease causes high morbidity and mortality in the community. People's distrust of the Covid-19 vaccine has led to a negative perception of vaccinating Covid-19. UPT Puskesmas Lipat Kain is one of the health centers with the highest Covid-19 cases, with 149 cases, 2.7% of the population received the third dose of vaccine. This study aims to determine the relationship between knowledge and public perception of the Covid-19 vaccine at the UPT Puskesmas Lipat Kain, Kampar Regency. This research is a quantitative research with a cross sectional approach. The population is all people who visited the UPT Puskesmas Lipat Kain during 2022 as many as 579 people. The number of samples of 86 respondents was taken using accidental sampling technique. The measuring instrument of research is questionnaire research. Data analysis with chi square test. The results showed that 55.8% of the people were knowledgeable and had a positive perception of the Covid-19 vaccine as much as 57%. Based on the results of the bivariate test, it is known that there is a relationship between knowledge and public perception about the COVID-19 vaccine with a p value of 0.007. It is recommended that health workers continue to provide education to the public about COVID-19 vaccination so that hoax news about COVID-19 vaccination can be eliminated so that people have a positive perception regarding Covid-19 vaccination.
References
Dewi, S. 2021, "Komunikasi Publik Terkait Vaksinasi COVID 19", Jurnal Kesehatan, Vol 10, No. 1: 162-167.
Dinkes Provinsi Riau. 2022, "Data Covid -19 Provinsi Riau.Pekanbaru", Dinas kesehatan Provinsi Riau.
Febriyanti 2021, "Hubungan Tingkat Pengetahuan dan Kesediaan Vaksinasi Covid", Seminar Nasional Hasil riset dan Pengabdian ke-IIII : 36-41.
Mujiburrahman. 2021, "Pengetahuan Berhubungan dengan Peningkatan Perilaku Pencegahan COVID-19 di Masyarakat", Jurnal Keperawatan Terpadu Vol. 2, No. 2: 130-140 : e-ISSN: 2685-0710.
Notoatmodjo, S. 2018, "Promosi Kesehatan dan Perilaku Kesehatan", Jakarta: Rineka Cipta.
Pieter, H. 2017, "Pengantar Psikologi dalam Keperawatan", Jakarta : Kencana.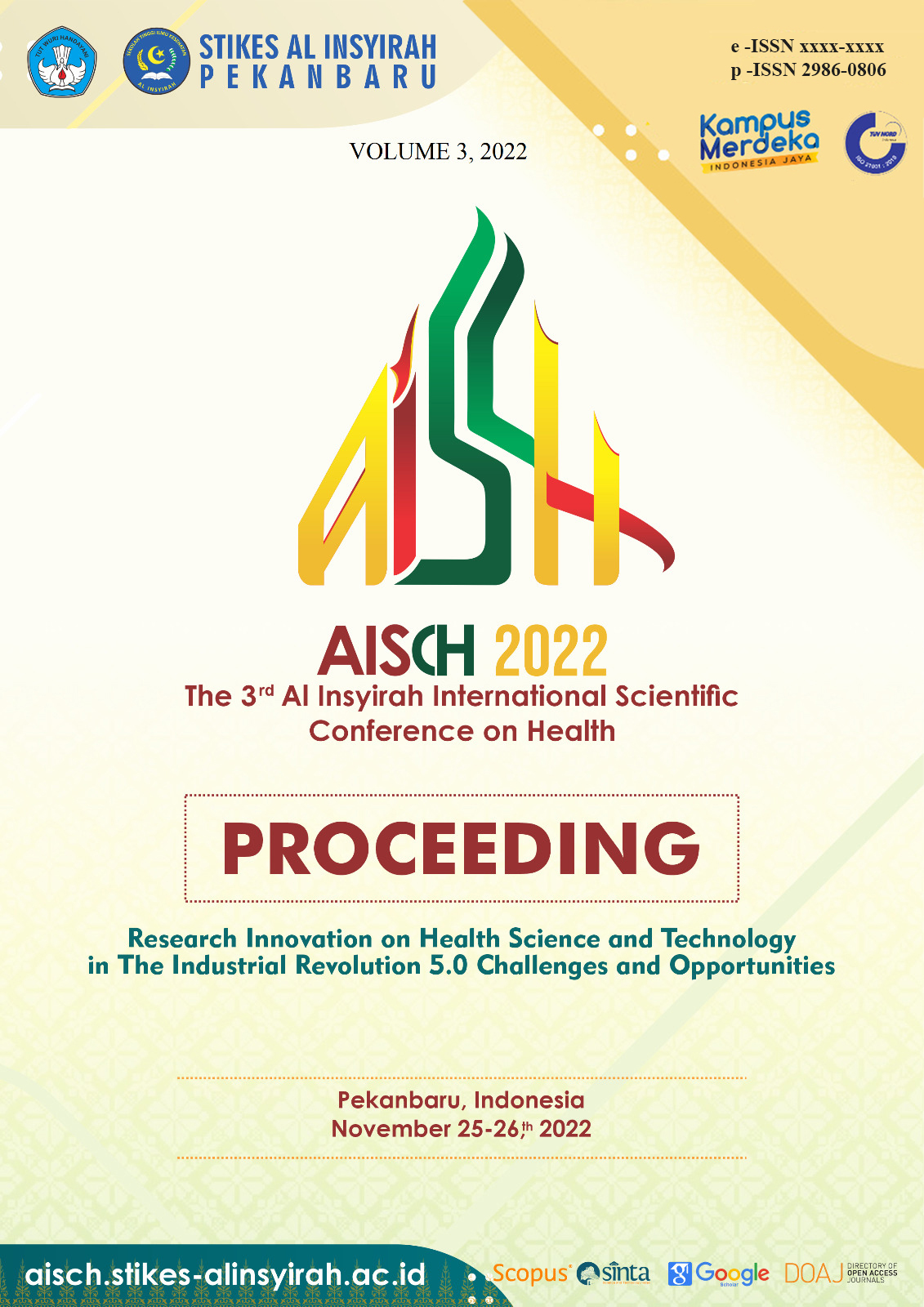 Downloads
License
Copyright (c) 2023 Al Insyirah International Scientific Conference on Health
This work is licensed under a Creative Commons Attribution 4.0 International License.