THE RELATIONSHIP BETWEEN SELF EFFICACY AND ADHERENCE TO BLOOD PRESSURE CONTROL IN PATIENTS WITH HYPERTENSION IN THE WORKING AREA OF THE REJOSARI HEALTH CENTER
Keywords:
self efficacy, adherence to control blood pressure, hypertension
Abstract
Uncontrolled hypertension can cause complications that are dangerous for the sufferer's body. This requires adherence from the sufferer to control blood pressure. One of the things that can affect the patient's compliance in carrying out blood pressure control is self-efficacy. The purpose of this study was to determine the relationship of self-efficacy with adherence in controlling blood pressure in people with hypertension. This type of research is quantitative research with a cross sectional approach. This research was conducted in the working area of the Rejosari Health Center on July 06-16, 2022. The respondents in this study were 73 people with hypertension with purposive sampling techniques. Data collection was carried out using self-efficacy questionnaires and adherence in controlling blood pressure. The analysis carried out in the study was univariate and bivariate analysis with chi square statistical tests. The results showed that as many as 61.6% of respondents had high self-efficacy and 68.5% of respondents were obedient in controlling blood pressure. The results of the chi square obtained a p value of 0.000, so it can be concluded that there is a significant relationship between self-efficacy and adherence to controlling blood pressure in people with hypertension. The OR value was obtained at 7,238, meaning that respondents with high self-efficacy had a 7,238 times chance of being obedient in controlling blood pressure. This research can be used as a reference for future research on other factors that increase self-efficacy in controlling blood pressure such as motivation and family support.
References
Annalia, W., Maria, I., & Murdiany, A. N. (2019). Hubungan Self Efficacy dengan Penatalaksanaan Pencegahan Kekambuhan Hipertensi di Wilayah Kerja Puskesmas Martapura II Kalimantan Selatan. Jurnal Keperawatan Suaka Insan, 4(2).
Black, J. M., & Hawks, J. H. (2014). Keperawatan medikal bedah: manajemen klinis untuk hasil yang diharapkan edisi Singapura: Elsevier.
Ignatavicius, D. D., Workman, M. L.(2012). Medical surgical nursing: patient centered collaborative care. (5th ed). Philadelphia: Elsevier.
Indarti, E. T. (2020). The The Role Of Self-Efficacy And Family Support In Stabilizing Blood Pressure Of Patients With Hypertension. International Journal of Nursing and Midwifery Science (Ijnms), 4(3), 211–217. https://doi.org/10.29082/ijnms/2020/vol4/iss3/325
Kawulusan, K. B., Katuuk, M. E., & Bataha, Y. B. (2019). Hubungan Self-Efficacy Dengan Kepatuhan Minum Obat Hipertensi Di Puskesmas Ranotana Weru Kota Manado. Jurnal Keperawatan, 7(1), 1–9. https://doi.org/10.35790/jkp.v7i1.24340
Kementrian Kesehatan Republik Indonesia. (2019). Hipertensi penyakit paling banyak diidap masyarakat. Diakses tanggal 20 November 2022. https://www.kemkes.go.id/article/view/19051700002/hipertensi-penyakit-paling-banyak-diidap-masyarakat.html
Kendu, Y. M., Qodir, A., & Apryanto, F. (2021). Hubungan Self-Efficacy Dengan Tingkat Kepatuhan Minum Obat. 2, 13–21.
Lamarche, L., Tejpal, A., & Mangin, D. (2018). Self-efficacy for medication management: A systematic review of instruments. Patient Preference and Adherence, 12, 1279–1287. https://doi.org/10.2147/PPA.S165749
Martos-Méndez, M. J. (2015). Self-efficacy and adherence to treatment: the mediating effects of social support. Journal of Behavior, Health & Social Issues, 7(2), 19–29. https://doi.org/10.5460/jbhsi.v7.2.52889
Ostchega, Y., Fryar, C. D., Nwankwo, T., & Nguyen, D. T. (2020). Hypertension Prevalence Among Adults Aged 18 and Over: United States, 2017-2018. NCHS Data Brief, 364, 1–8.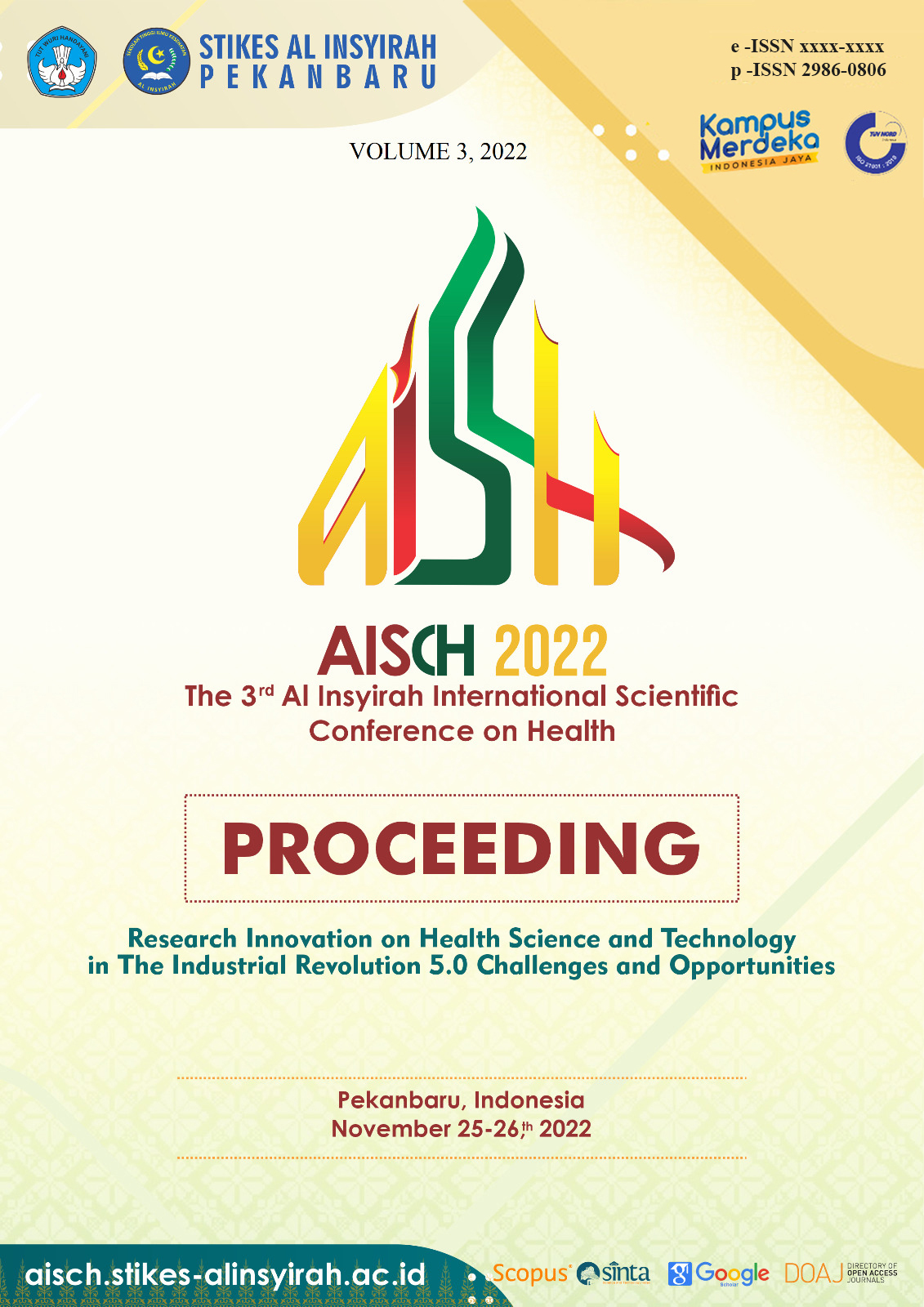 Downloads
License
Copyright (c) 2022 Al Insyirah International Scientific Conference on Health
This work is licensed under a Creative Commons Attribution 4.0 International License.