RELATIONSHIP OF MOTHER'S CLEAN AND HEALTHY LIFE BEHAVIOR (CHLB) WITH DIARRHEA IN INFANTS AT PAYUNG SEKAKI HEALTH CENTER, PAYUNG SEKAKI DISTRICT, PEKANBARU
Keywords:
Babies, Diarrhea, CHLB
Abstract
Diarrhea is still a health problem, especially in Indonesia, the prevalence of diarrhea in Indonesia according to the characteristics based on the 2018 Riskesdas recorded as many as 18,225 children with diarrhea in the 0-12 month age group. Clean and Healthy Lifestyle (CHLB) is one of the causes of diarrhea and is often experienced by infants. This study aims to determine the relationship between maternal clean and healthy behavior (CHLB) with the incidence of diarrhea in infants at Payung Sekaki Health Center, Payung Sekaki District. This research was conducted in January – July 2022. This type of research is quantitative with a cross sectional approach. The total population is 72 people and the sample is 61 people determined by purposive sampling technique. The data were processed univariate and bivariate with a computerized system which was tested with the Chi-Square test. The results showed that the majority of CHLB mothers were in the bad category, namely 34 people (56%) and the incidence of diarrhea in infants, the majority of infants experiencing diarrhea, amounting to 33 people (54.1%). The results of statistical tests showed p-value <0.05 (0.001), meaning that there was a relationship between the mother's clean and healthy lifestyle (CHLB) and the incidence of diarrhea in infants. It is recommended for health workers at the Umbrella Sekaki Public Health Center to provide more comprehensive services in the form of health promotion in improving Clean and Healthy Life Behavior (CHLB) to mothers regarding the prevention of diarrhea in infants at The Payung Sekaki Health Center, Sekaki, Pekanbaru
References
Ahmad, R. 2021. Hubungan Perilaku Hidup Bersih dan Sehat (PHBS) dengan Kejadian Diare pada Balita. ISBN : 978-623-6535-49-3.
Astuti. 2012. Hubungan pengetahuan ibu tentang sanitasi makanan dengan kejadian diare pada balita di lingkup kerja puskesmas klirong I. Jurnal Ilmiah Kesehatan Keperawatan, Vol 7, No. 2, Juni 2012.
Azaria, Rayhana. 2016. Hubungan Penerapan Perilaku Hidup Bersih dan Sehat (PHBS) Ibu dengan Kejadian Diare Balita di Wilayah Kerja Puskesmas Kacang Pedang 2015. Jurnal Kedokteran Dan Kesehatan, Vol 12(1), Hal 85–96.
Depkes. 2012. Riset Kesehatan Dasar Tahun. Penelitian dan Pengembangan Kesehatan Departemen Kesehatan RI.
Dinas Kesehatan Riau. 2019. Profil Kesehatan Provinsi Riau Tahun 2019. Pekanbaru: Dinas Kesehatan Provinsi Riau.
Kemenkes RI. 2016. Buku Saku Petugas Kesehatan : Lima Langkah Tuntaskan Diare. Jakarta : Kementrian Kesehatan RI.
Kemenkes RI. 2019 Situasi Diare di Indonesia. Jakarta : Kementrian Kesehatan RI
Laila, K. 2012. Hubungan Praktek Personal Hygiene Ibu dan Kondisi Sanitasi Lingkungan Rumah dengan Kejadian Diare pada Balita di Puskesmas Kampung Dalam Kecamatan Pontianak Timur. Jurnal Kesehatan Lingkungan Indonesia. Vol. 11 No. 2 / Oktober 2012.
Mardta. 2015. Hubungan Antara Perilaku Hidup Bersih dan Sehat (PHBS) Ibu Dengan Kejadian Diare Pada Bayi Usia 1-18 Bulan di Kelurahan Campago Ipuh Kabupaten Mandiangin. Stikes Perintis Sumatera barat.
Namiroh, Siti. (2018). Hubungan Perilaku Hidup Bersih dan Sehat (PHBS) Ibu dengan Kejadian Diare di Kelurahan Bumijo Jetis Kota Yogyakarta. Naskah publikasi.
Proverawati. 2016. Perilaku hidup bersih dan sehat (PHBS). Yogyakarta : Nuha Medika
Sukardi. Iskandar. 2013. Metode Penelitian Pendidikan Tindakan Kelas: Implementasi dan Pengembangannya. Jakarta: Bumi Aksara.
Sukardi, Yusran, S.,Tina, L.2016. Faktor-Faktor Yang Berhubungan Dengan Kejadian Diare Pada Balitaumur 6-59 Bulan Di Wilayah Kerja Puskesmas Poasia Tahun 2016. Jurnal Ilmiah Mahasiawa Kesehatan Masyarakat. 1(3).1-12.
UNICEF. 2020. Jutaan Bayi di Indonesia Kehilangan Awal Terbaik dalam Hidup Mereka. https://www.unicef.org.
Wahyuni, S.,Kurniawan, W., Dan Isyana D. 2017. Hubungan Perilaku Hidup Bersih Sehat Pada Ibu Dengan Angka Kesakitan Balita Akibat Diare Di Desa Girimulya Wilayah Kerja Uptd Puskesmas Banjaran Kecamatan Banjaran Kabupaten Majalengka Tahun 2016. Jurnal Keperawatan Dan Kesehatan Medisina Akper Ypib Majalengka.
WHO. 2017. Monitoring health for the SDGs, Sustainable Development Goals : WHO.
Wongkar & Futunanembun. 2017. Hubungan Perilaku Hidup Bersih dan Sehat (PHBS) Ibu dengan Kejadian Diare Pada Bayi Di Puskesmas Tompaso Baru Kabupaten Minahasa Selatan. Journal of community & emergency. Volume 5 Nomor 1 Mei 2017.
Yuvrista, Yuliana. 2018. Hubungan Pengetahuan Ibu Tentang PHBS dengan Kejadian Diare Pada Balita di Desa Jubelan Tahun 2018. Artikel. Universitas Ngudi Waluyo.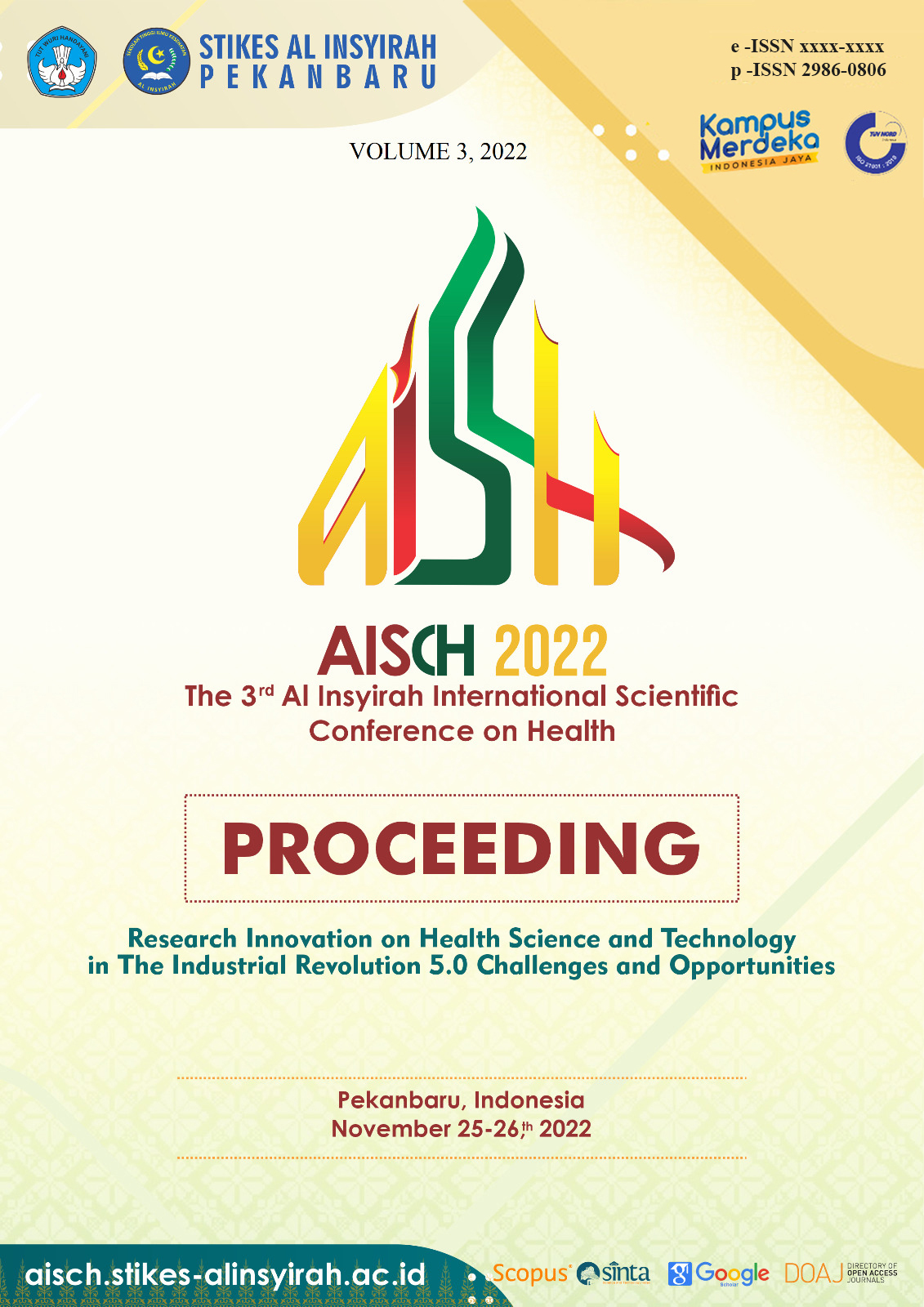 Downloads
License
Copyright (c) 2022 Al Insyirah International Scientific Conference on Health
This work is licensed under a Creative Commons Attribution 4.0 International License.