THE USE OF DOMINANT COLORS IN DRAWING IN OVERCOMING THE MENTAL PROBLEMS OF THE ELDERLY IN MEDAN SUNGGAL
Keywords:
Color, Happiness, Philosophy, Drawing, Elderly
Abstract
Knowing the dominant color used in drawing in the elderly who have mental problems. The design in this study
is a descriptive research with a case study approach conducted on 57 elderly people in Medan Sunggal District
with inclusion and exclusion criteria. Data analysis using univariate by looking at the mean and standard
deviation. The results of this study predominantly use of color in coloring images are yellow with an average
value of Mean±Standard Error 9.15 ± 0.666 which means that yellow is able to relieve stress and symbolizes a
sense of cheerfulness, happiness, and a sense of optimism. From the use of dominant colors in coloring images
in the elderly, it was found that the elderly were able to do well, judging from the choice of colors that have a
philosophy of happiness, cheerfulness, and full of optimism
References
Apak, E., Artan, T., & Ozucelik, D. N. (2022). Evaluation of bio-psycho-social and
socio-cultural problems of Syrian elderly living in Turkey.
Https://Doi.Org/10.1177/00207640221109165.
https://doi.org/10.1177/00207640221109165
Bainbridge, W. A. (2022). A tutorial on capturing mental representations through
drawing and crowd-sourced scoring. Behavior Research Methods, 54(2), 663–675.
https://doi.org/10.3758/S13428-021-01672-9/FIGURES/5
Ciasca, E. C., Ferreira, R. C., Santana, C. L. A., Forlenza, O. v., dos Santos, G. D., Brum,
P. S., & Nunes, P. v. (2018). Art therapy as an adjuvant treatment for depression in
elderly women: a randomized controlled trial. Brazilian Journal of Psychiatry, 40(3),
–263. https://doi.org/10.1590/1516-4446-2017-2250
Evian Devi. (2016, December). Pola Penataan Ruang Panti Jompo Berdasarkan Aktivitas
dan Perilaku Penghuninya. Jurnal ARTEKS.
https://core.ac.uk/download/pdf/230747596.pdf
Gameiro, S., de Guevara, B. B., Refaie, E. el, & Payson, A. (2018). DrawingOut – An
innovative drawing workshop method to support the generation and dissemination of
research findings. PLOS ONE, 13(9), e0203197.
https://doi.org/10.1371/JOURNAL.PONE.0203197
Guseva, M. E., Matveevskaya, O. v., Sivertseva, S. A., & Boyko, O. v. (2021).
[Possibilities of art therapy and color therapy in the rehabilitation of multiple sclerosis].
Zhurnal Nevrologii i Psikhiatrii Imeni S.S. Korsakova, 121(7. Vyp. 2), 49–55.
https://doi.org/10.17116/JNEVRO202112107249
Harini, N. (2013). TERAPI WARNA UNTUK MENGURANGI KECEMASAN. Jurnal
Ilmiah Psikologi Terapan, 1(2), 291 – 303–291 – 303.
https://doi.org/10.22219/JIPT.V1I2.1584
Ilali, E. S., Mokhtary, F., Mousavinasab, N., & Tirgari, A. H. (2019). Impact of ArtBased Life Review on Depression Symptoms Among Older Adults.
Https://Doi.Org/10.1080/07421656.2018.1531276, 35(3), 148–155.
https://doi.org/10.1080/07421656.2018.1531276
Johnson, T., Deaver, S. P., & Doby-Copeland, C. (2021). Art Therapy Students of Color:
The Experience of Seven Graduate Students.
Https://Doi.Org/10.1080/07421656.2020.1862603, 38(1), 50–56.
https://doi.org/10.1080/07421656.2020.1862603
Kondisi Kesehatan Lingkungan Dan Sosial Ekonomi, P., Dharmayanti, I., Hapsari
Tjandrarini, D., Sari Hidayangsih, P., Nainggolan, O., Penelitian dan Pengembangan
Kesehatan, B., & Kesehatan, K. (2018). PENGARUH KONDISI KESEHATAN
LINGKUNGAN DAN SOSIAL EKONOMI TERHADAP KESEHATAN MENTAL DI
INDONESIA. JURNAL EKOLOGI KESEHATAN, 17(2), 64–74.
https://doi.org/10.22435/JEK.17.2.149.64-74
Muhammadiyah, J. K., Grace, M., Tarehy, K., Nusawakan, A. W., & Soegijono, S. P.
(2019). Kesehatan Mental dan Strategi Koping Dalam Perspektif Budaya: Sebuah Studi
Sosiodemografi di Ambon. Jurnal Keperawatan Muhammadiyah, 4(1), 2019.
https://doi.org/10.30651/JKM.V4I1.1941
Namias, J. M., Huff, M. J., Smith, A., & Maxwell, N. P. (2021). Drawing individual
images benefits recognition accuracy in the Deese–Roediger–McDermott paradigm.
Https://Doi.Org/10.1177/17470218211056498, 75(8), 1571–1582.
https://doi.org/10.1177/17470218211056498
Salazar, L. R. (2019). Exploring the effect of coloring mandalas on students' math
anxiety in business statistics courses. Business, Management and Economics
Engineering, 17(2), 134–151. https://doi.org/10.3846/BME.2019.11024
Studi Desain Komunikasi Visual, P. (2019). Konsep dan Pengunaan Warna dalam
Infografis. Jurnal Desain, 6(01), 10–19.
https://doi.org/10.30998/JURNALDESAIN.V6I01.2837
Turana, Y., Tengkawan, J., Chia, Y. C., Shin, J., Chen, C. H., Park, S., Tsoi, K.,
Buranakitjaroen, P., Soenarta, A. A., Siddique, S., Cheng, H. M., Tay, J. C., Teo, B. W.,
Wang, T. D., & Kario, K. (2021). Mental health problems and hypertension in the
elderly: Review from the HOPE Asia Network. The Journal of Clinical Hypertension,
(3), 504–512. https://doi.org/10.1111/JCH.14121
Widakdo, G., & Besral, B. (2013). Efek Penyakit Kronis terhadap Gangguan Mental
Emosional. Kesmas: Jurnal Kesehatan Masyarakat Nasional (National Public Health
Journal), 7(7), 309–316. https://doi.org/10.21109/KESMAS.V7I7.29
WITHROW, R. L. (2004). The Use of Color in Art Therapy. The Journal of Humanistic
Counseling, Education and Development, 43(1), 33–40. https://doi.org/10.1002/J.2164-
X.2004.TB00040.X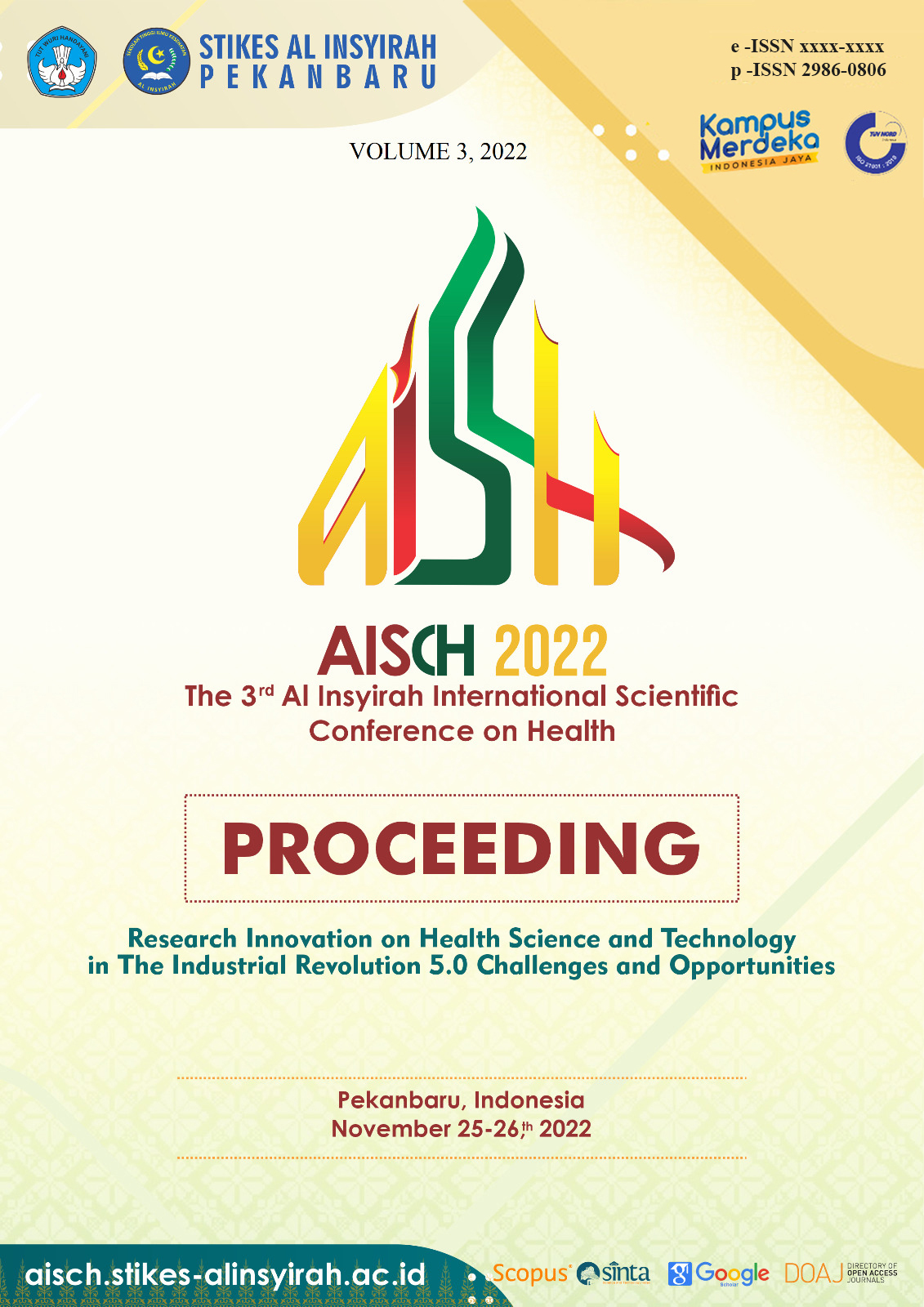 Downloads
License
Copyright (c) 2022 Al Insyirah International Scientific Conference on Health
This work is licensed under a Creative Commons Attribution 4.0 International License.