ANALYSIS OF THE RESULTS OBTAINED IN THE CALIBRATION OF INFANT WARMER AT A HOSPITAL IN PEKANBARU
Abstract
Every baby born needs a temperature between 34ºC to 37ºC accordence to the temperature of the mothers
womb. One type of electromedical device that has a function to provide comfort and warmth to newborns is
infant warmer. Maintanance and calibration are needed to maintain the healt of the device in the hospital.
Neonatal deaths in infant warmer have occurred. Reports include design defects resulting in thermostat failure,
malfunction, or fire causing the infant warmer to overheat and the baby to overheat. Improperly maintained
batteries and unreliable battery gauges can also present a risk of electric shock, poor transport incubator
performance, or power failure. Because infant warmer are large and mobile, they are routinely subjected to
rough handling which can affect their performance and physical condition. This study aims to analyst the quality
of infant warmer at hospital in Pekanbaru based on the result of infant warmer calibration analyst. Tests were
carried out at several points under the names T2A, T2B, T2C, T2D and T2M. The instrument is set at 32ºC. Each
point is read 20 times. According to the data obtained T2A the correction value + Uncertainty (Uc) is 0.67, the
T2B point is the correction value + Uc is 1.81, the T2C point is the correction value + Uc is 4.62, the T2D point
is the correction value + Uc is 2.30 , the T2M point is the correction value + the Uc is 0.81. Based on this
research, from the calibration results obtained, it can be concluded that the T2C and T2D measurement points
are not suitable for use.
References
Masfufiah, I., Firmansyah, R. A., Hamid, A., & Oetomo, S. (2021). Implementasi
Kontrol Suhu Menggunakan Metode PID pada Aplikasi Inkubator Infant Warmers.
Cyclotron, 4(1).
Permenkes No.54. (2015). Peraturan Menteri Kesehatan No.54 Tahun 2015 tentang
Pengujian dan Kalibrasi Alat Kesehatan.
No, U. U. (36). tahun 2009 tentang Kesehatan.
LAPANGAN, L. P. K., & NURAINI, A. N. KALIBRASI INKUBATOR MEMMERT
TIPE UNE 600 MENGGUNAKAN METODE AS 2853-1986.
Kemenkes RI tahun 2018. Metode Kerja Pengujian dan/Kalibrasi.
Bhuana, S. A. W. INFANT WARMER DILENGKAPI DENGAN FOTOTERAPI.
Puspita, I. R., Suradi, R., & Munasir, Z. (2007). Insidens dan Faktor Risiko Hipotermia
Akibat Memandikan pada Bayi Baru Lahir Cukup Bulan. Sari Pediatri, 8(4), 258-64.
Padila, P., & Agustien, I. (2019). Suhu Tubuh Bayi Prematur di Inkubator Dinding
Tunggal dengan Inkubator Dinding Tunggal Disertai Sungkup. Jurnal Keperawatan
Silampari, 2(2), 113-122.
Syamsu, A. F. (2013). Pengaruh Perawatan Metode Kanguru Terhadap Fungsi
Fisiologis Bayi Prematur Dan Kepercayaan Diri Ibu Dalam Merawat Bayi. Jurnal
Keperawatan Soedirman, 8(3), 87-91.
Irawan, A. (2019). Kalibrasi Spektrofotometer Sebagai Penjaminan Mutu Hasil
Pengukuran Dalam Kegiatan Penelitian Dan Pengujian. Indonesian Journal of
Laboratory, 1(2), 1-9.
Jamshidi, A., Rahimi, SA, Ait-kadi, D., & Bartolome, AR (2014). Pemeriksaan dan
pemeliharaan alat kesehatan; sebuah tinjauan literatur. Dalam konferensi tahunan IIE.
Prosiding (hal. 3895). Institut Insinyur Industri dan Sistem (IISE)
Özdemirci, E., Yatak, M. Ö., Duran, F., & Canal, MR (2014). Penilaian keandalan
inkubator bayi dan penganalisa. Jurnal Sains Universitas Gazi , 27 (4), 1169-1175.
Malau, MS, & Yulizham, Y. (2021). ANALISA KALIBRASI ALAT INFANT
WARMER MENGGUNAKAN ALAT INCUBATOR ANALYZER. Jurnal Mutiara
Elektromedis , 5 (2), 58-65.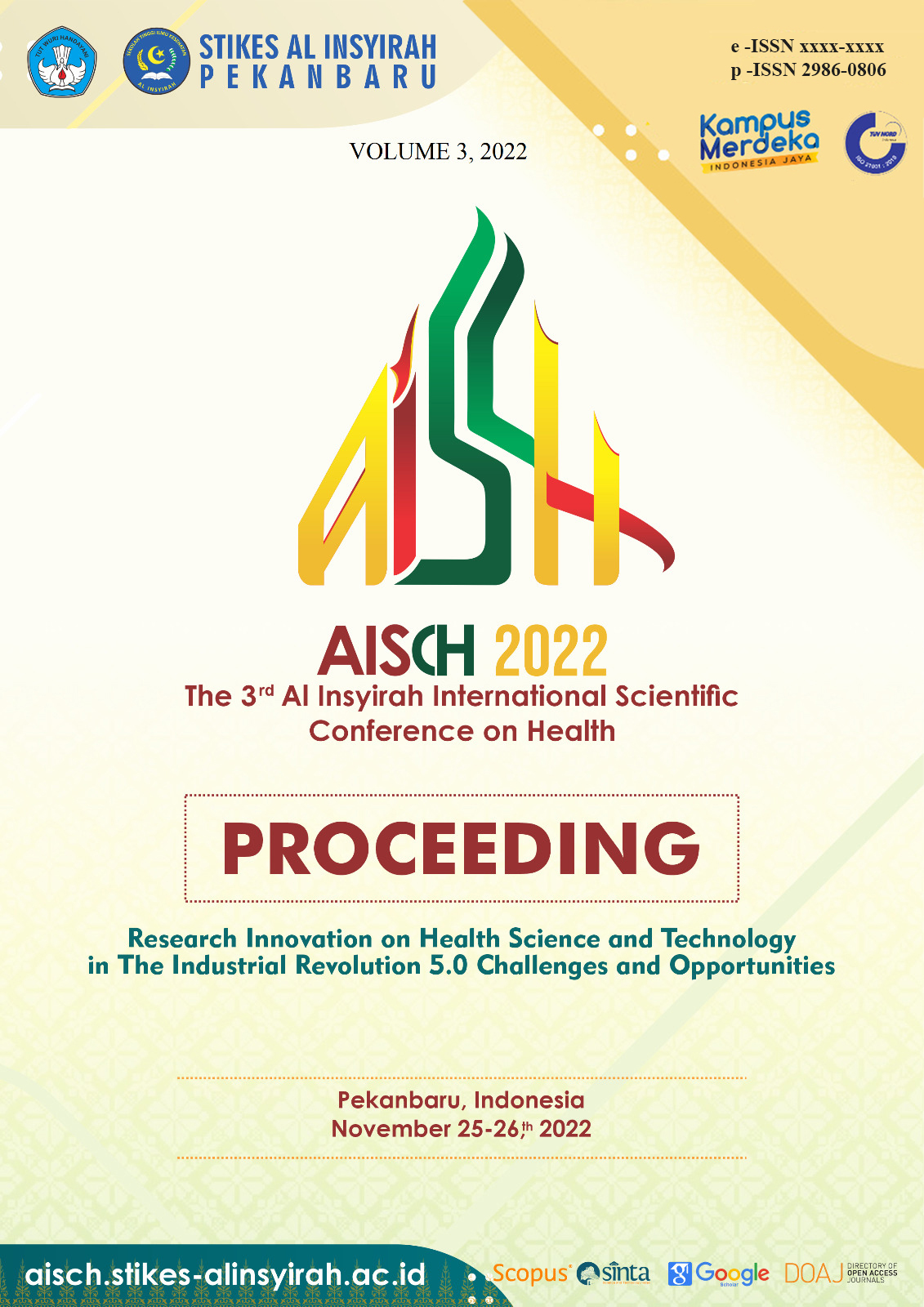 Downloads
License
Copyright (c) 2022 Al Insyirah International Scientific Conference on Health
This work is licensed under a Creative Commons Attribution 4.0 International License.