FEASIBILITY TEST ANALYSIS OF THE LABORATORY UNIT OF NURSE STIKES AL INSYIRAH PEKANBARU
Keywords:
Anesthesia unit, Calibration, Laboratory, Nurse
Abstract
There are many people who know the unit anesthetic device to perform surgery. Anesthesia is an act of relieving
pain during the surgical process. Basically the unit anesthesia machine is a device that delivers the safest
anesthetic gas during the surgical process. Anesthesia unit is used to dispense safe anesthetic gas or gas mixture
into the anesthetic circuit and then inhaled by the patient and remove the remaining gas mixture from the
patient. The importance of medical devices that have been implemented by the MK of the Ministry of Health by
using testing and calibration. Testing isthe whole action which includes a physical examination and
measurement. Calibration isi mplementation activities to determine the correctness of the value of the
measurement tool. Anesthesia units are available in the nursing laboratory of STIKes Al Insyirah Pekanbaru.
Anesthesia equipment is used for nursing student practice materials. This research will discuss comparison of
calibration results and uncertainty analysis on parameter measurement data from Air Force Hospital Roesmin
Nurjaminand data on the STIKes Al Insyirah Nurse Laboratoryin order to find out whether the anesthesia
equipment in the laboratory is suitable for use or not
References
Analyzer, Gas Flow. nd "Gas Flow Analyzers."
Eom, In Yong, Qingyang Li, Jianzhong Li, and Purnendu K. Dasgupta. 2008. "Robust
Hybrid Flow Analyzer for Formaldehyde." Environmental Science and Technology 42
(4): 1221–26. https://doi.org/10.1021/es071472h.
Evaluation, Risk, Euroscore II, As a Predictor, Length of Care, Intensive Care, ICU
Unit, Surgery Patient, et al. 2018. "EUROPEAN SYSTEM VALIDATION FOR
CARDIAC OPERATIVE" 5:1–8.
Faridah, Didah Nur;, Dede; Erawan, Komar; Sutriah, Anwar; Hadi, and Fajarina;
Budiantari. 2018. Implementation of SNI ISO/IEC 17025:2017 - General Requirements
for Competence of Testing Laboratories and Calibration Laboratories. National
Standardization Body.
Firdaus, Yunaifi Niswatul, Syaifudin Syaifudin, and M. Prastawa Assalim Tetra Putra.
"Measurement of Oxygen Concentration and Flow in Ventilator." Teknokes
Journal 12 (1): 27–32. https://doi.org/10.35882/teknokes.v12i1.5.
Handayani, Monica, and Donni Indra Kusuma. nd "Anesthesia Breathing Circuit," 1–18.
Lecturer, Advisor, Rike Setyowuryani, and Ita Ulfin M Si. nd "Reduction of Chromium
From Tannery Wastewater With Electrocoagulation."
Medika, Main Facilities. nd "Aespire SE Anesthesia Machine."
Permatasari, Beautiful. 2015. "No Title ." Journal of Geotechnical and Geoenvironmental
Engineering ASCE 120 (11): 259.
Sugiarto, Adhrie, and Madeline Marpaung. 2021. "Predicting Difficulty in Placement of
Spinal Needle Based on Radiological Features and Anatomical Markers in Urological
Surgical Patients." Anesthesia & Critical Care Magazine 39 (2): 85–95.
https://doi.org/10.55497/majanestcricar.v39i2.215.
Structure, Monitoring, and Central Nervous. nd "Journal of Perioperative Anesthesia
Volume I: 30 – 35 LITERATURE REVIEW Complications and Monitoring of the
Central Nervous System in Cardiac Surgery." Reza WS: Complications and Monitoring
of the Central Nervous System in Cardiac Surgery Cause I: 30–35.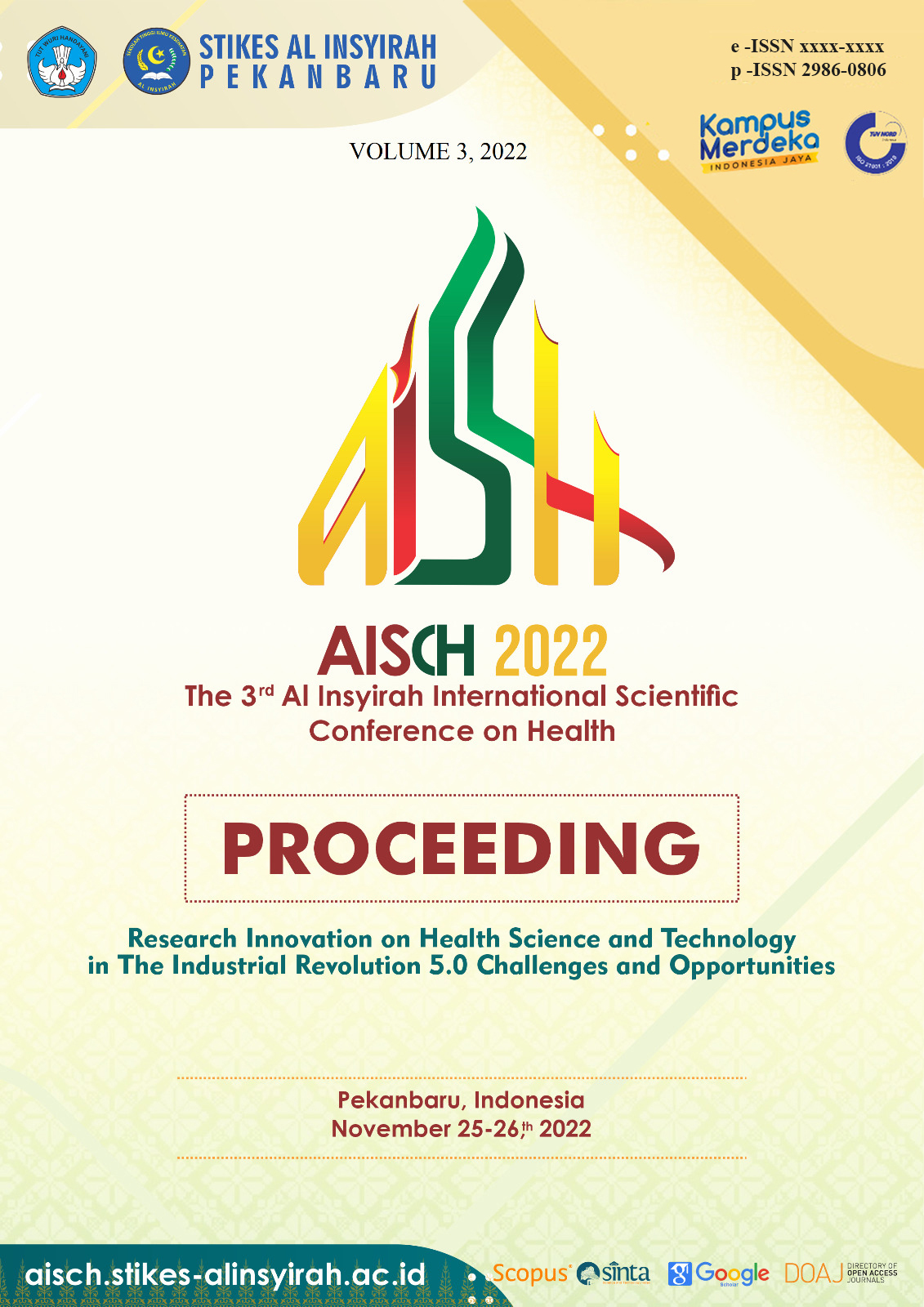 Downloads
License
Copyright (c) 2022 Al Insyirah International Scientific Conference on Health
This work is licensed under a Creative Commons Attribution 4.0 International License.