FEASIBILITY TEST OF BEDSIDE MONITOR TOOL LABORATORY NURSE STIKES AL INSYIRAH PEKANBARU
Keywords:
Bedside Monitor, Calibration, SPO2, NIBP
Abstract
Bedside Monitorsis a tool used to monitor the patient's vital signs in the form of heart rate, pulse, blood
pressure, temperature, and the shape of the heart pulse continuously.Apart from being used in hospitals, this tool
is also used in electromedical laboratories as a tool for clinical practice for electromedical students. All medical
devices must be calibrated periodically. In this study, we will discuss how to calibrate the bedside monitor
device with the aim of knowing whether the bedside monitor device in the laboratory is suitable for use or not.
The research was carried out using work methods set by the ministry of health including physical examination
and function of the equipment, electrical safety and measurement of the performance of the device using the
suction power parameter. The results showed that the results of the physical inspection and tool function were
10%, electrical safety checks were 30% and performance measurements of NIBP, SPO2.
References
Ghofar Nur Eka Susilo, Dr. Endro Yulianto., ST., MT. , Endang Dian Setioningsih ST.,
MT. 2019. "Patient Monitor Shows Pc." Journal of Chemical Information and Modeling
(9): 1689–99.
HADIYOSO, SUGONDO, MUHAMMAD JULIAN, ACHMAD RIZAL, and SUCI
AULIA. 2015. "Development of 12 Lead EKG Devices and Client-Server Applications
for Data Distribution." ELKOMIKA: Journal of Electrical Energy Engineering,
Telecommunications Engineering, & Electronics Engineering 3 (2): 91.
https://doi.org/10.26760/elkomika.v3i2.91.
Madona, Putri, and Rizki Fadilla. 2021. "Arduino Based Electrocardiography (ECG)
Signal Acquisition" 7(1): 35–46.
Maggang, Amin Ajaib, Beby HA Manafe, Sarlince O. Manu, and Johanis FM Bowakh.
"Electrocardiogram (Ekg) Signal Monitoring System Using Thingspeak Cloud
Computing." Journal of Electro Media X (1): 1–7.
https://doi.org/10.35508/jme.v0i0.3838.
Rifai, Akhmad, and Dwi Sulistyowati. 2017. "Improving the Ability of Interpretation of
Electrocardiogram (ECG) Nurses with Training and Multimedia Learning in Dr.
Soeratno Sragen. Interest : Journal of Health Sciences 6 (1): 13–18.
https://doi.org/10.37341/interest.v6i1.72.
Rokhman, Mukhamad Ryan Nur, Bambang Guruh Irianto, and Her Gumiwang Ariswati.
"Digital Pressure Meter Tensimeter and Suction Pump." Journal of Technokes 12
(1): 1–4. https://doi.org/10.35882/teknokes.v12i1.1.
Simamora, Rosinondang Deolita, Edwin Basyar, A Ari Adrianto, Mercury Tensimeter,
and Spring Tensimeter. 2017. "Compatibility of Types of Mercury Tensimeters and
Adult Tensimeters." Diponegoro Medical Journal 6 (2): 1208–16.
Suheriono, GA, A Pudji, and MR Makruf. 2016. "Tensimeter Calibrator Equipped with
Temperature and Humidity Measurements." Journal of Technokes 9 (1): 2.
Ulandari, Eva, and Ridwan Abdullah Sani. 2014. "Design of PC Assisted
Electrocardiography Instrumentation Using Soundscope Evi." Einstein's Journal 2 (3):
–
http://www.journals.cambridge.org/abstract_S0263034606000267%0Ahttp://ejurnal.
bppt.go.id/index.php/JAI/article/view/2452/2063%0Ahttps://jurnalfarmasimalahayati.sc
h.id/ index.php/jfm/article/download/7/3/.
Wati, Erna Kusuma. 2021. "Testing and Calibration of Medical Devices on the
Electrocardiograph." STRING (Technology Research and Innovation Writing Unit) 6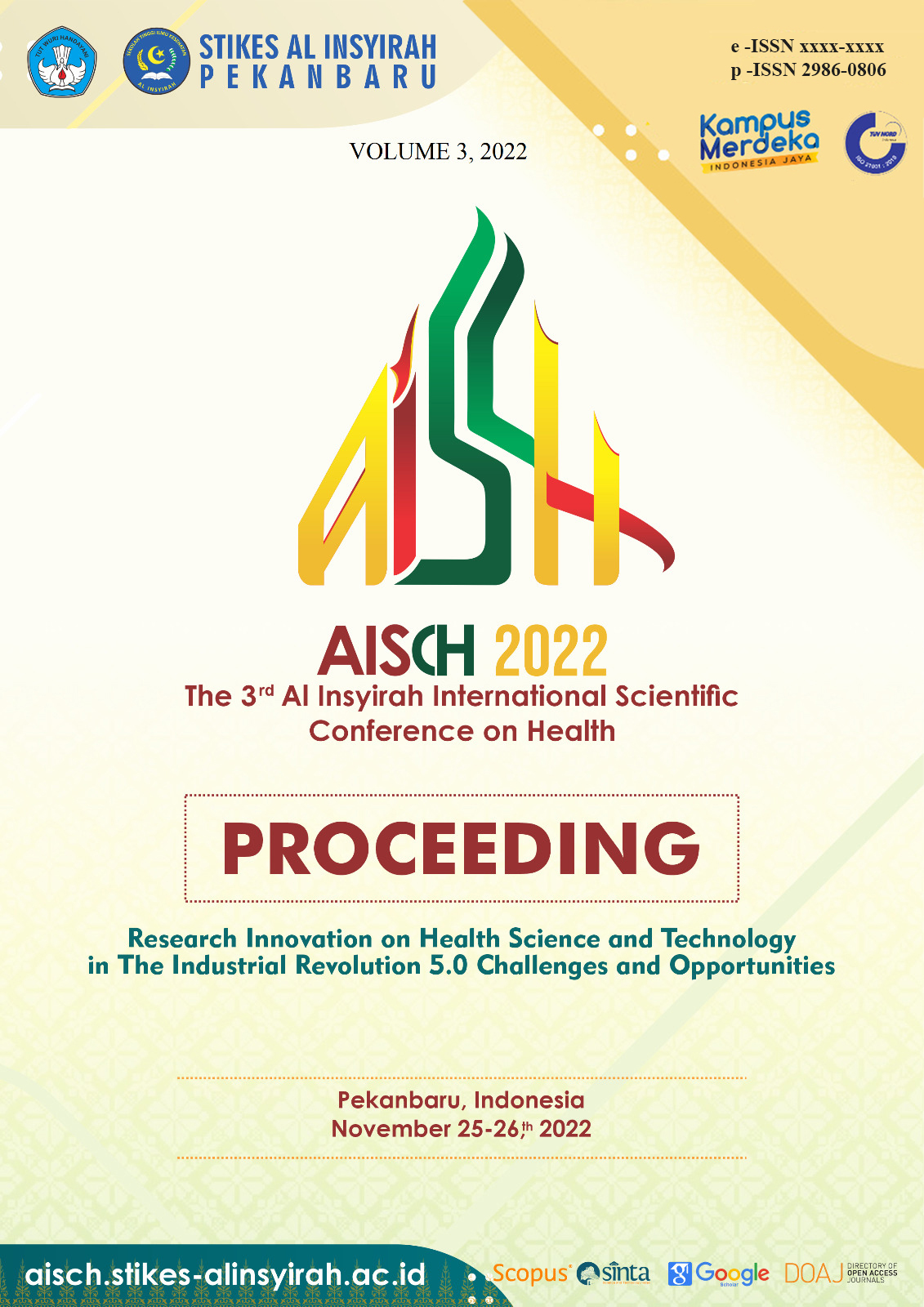 Downloads
License
Copyright (c) 2022 Al Insyirah International Scientific Conference on Health
This work is licensed under a Creative Commons Attribution 4.0 International License.