EFFECTIVENESS OF BACK ENDORPHIN MASSAGE AGAINST DECREASED DYSMENORRHEA IN STUDENTS OF THE FACULTY OF NURSING, UNIVERSITAS SUMATERA UTARA
Keywords:
Dysmenorrhea, Menstruation, Relaxation Therapy, Abdomen, Endorphins
Abstract
Dysmenorrhea is pain that occurs during menstruation accompanied by severe pain and cramps in the lower abdomen and spreads to the back. The pain that occurs interferes with daily activities, forcing women to rest. Actions that can be taken for the management of dysmenorrhea include relaxation techniques, exercise, massage, distraction, and rest. Back endorphins massage is a gentle massage technique on the back area which is done for 30 minutes to reduce menstrual pain. The purpose of this study was to identify the effectiveness of back endorphin massage on reducing dysmenorrhea in students of the Universitas Sumatera Utara. The research design used was a quasi-experimental approach with a pretest-posttest control group design approach. Sampling using purposive sampling. Data was collected using a demographic data questionnaire and a numerical rating scale (NRS) pain scale sheet.The collected data were analyzed using a paired t-test statistic with p 0.05. The results showed that the value of p = 0.00 [WU2] which means that there is an effect of back endorphins massage on the reduction of dysmenorrhea. Back endorphin massage has been shown to be effective in reducing menstrual pain. Health workers are advised to massage back endorphins as a non-pharmacological treatment for women who experience dysmenorrhea.
References
Andrews, G (2010). Buku Ajar Kesehatan Reproduksi Wanita. Edisi 2. Jakarta: EGC.
Elvira, M., & Tulkhair, A. (2018). Pengaruh Pijat Endorphine Terhadap Skala Nyeri Pada Siswi SMA Yang Mengalami Disminore. Jurnal IPTEK Terapan. 12(2), 155–166.
Gumangsari, Ni Made Gita. (2014). Pengaruh Massage Counterpressure Terhadap Penurunan Tingkat Nyeri Haid Pada Remaja Putri di SMA N 2 Ungaran Kabupaten Semarang, Terdapat dalam http://perpusnwu.web.id/karyailmiah/documents/3637
Harahap, L. K. S., Asriwati, A., & Sibero, J. T. (2022). Efektivitas Pijat Endorphin Dan Pijat Tekanan Terhadap Intensitas Nyeri Haid Pada Remaja Putri. Femina: Jurnal Ilmiah Kebidanan, 2(1), 64-73.
Herawati Rika (2017). Factors Influencing The Incidence Of Menstrual Pain Of Dysmenorrhea On Students Madrasah Aliyah Negeri Pasir Pengaraian. Universitas Pasir Pengairan.
Kumalasari, M.L.F. (2017). Efektivitas Senam Dismenore Sebagai Terapi Alternatif Menurunkan Tingkat Nyeri Haid Tinjauan Sistematis Penelitian Tahun 2011-2016. The Effectiviness of Dysmenorrhea Gymnastics as an Alternative Therapy in Reducing Menstrual Pain A Systematic Research Revi, 1 (1), pp. 10–14.
Melzack and Wall (1999). Teori Gerbang Nyeri. Cetakan Ketiga :Jakarta Narsih, Umi dkk (2017). Efektivitas Penanganan Dismenore dengan Kompres Hangat dan Obat Anti Nyeri pada Remaja Putri. Jurnal Saun Med, Vol.9. No 1.
Prawirohardjo (2011). Ilmu Kandungan. Edisi Ketiga. Jakarta: Bina Pustaka Rachmawati, A., & Safriana, R. E. (2020). Efektivitas Endorphin Massage dan Senam Dismenore dalam Menurunkan Dismenore Primer. Media Publikasi Promosi Kesehatan Indonesia (MPPKI), 3(3), 192-196.
Rakhma, Astrida (2012). Gambaran Derajat Dismenore dan Upaya Penanganannya pada Siswi Sekolah Menengah Kejurusan Arjuna Depok Jawa Barat. http://www.repository.uinjkt.ac.id Reeder, S. J., Martin, L. L., & Koniak-
Griffin, D. (2011). Keperawatan Marernitas Kesehatan Wanita, Bayi & Keluarga. Volume 1, edisi 18. Jakarta: EGC.
Septianingrum & netty (2019). Pengaruh Endorphin Massage Terhadap Nyeri Haid Mahasiwi Tingkat Akhir S1 Keperawatan Universitas Nadhlatul Ulama Surabaya. Jurnal Keperawatan Muhammadiyah, Vol.4. No. 2.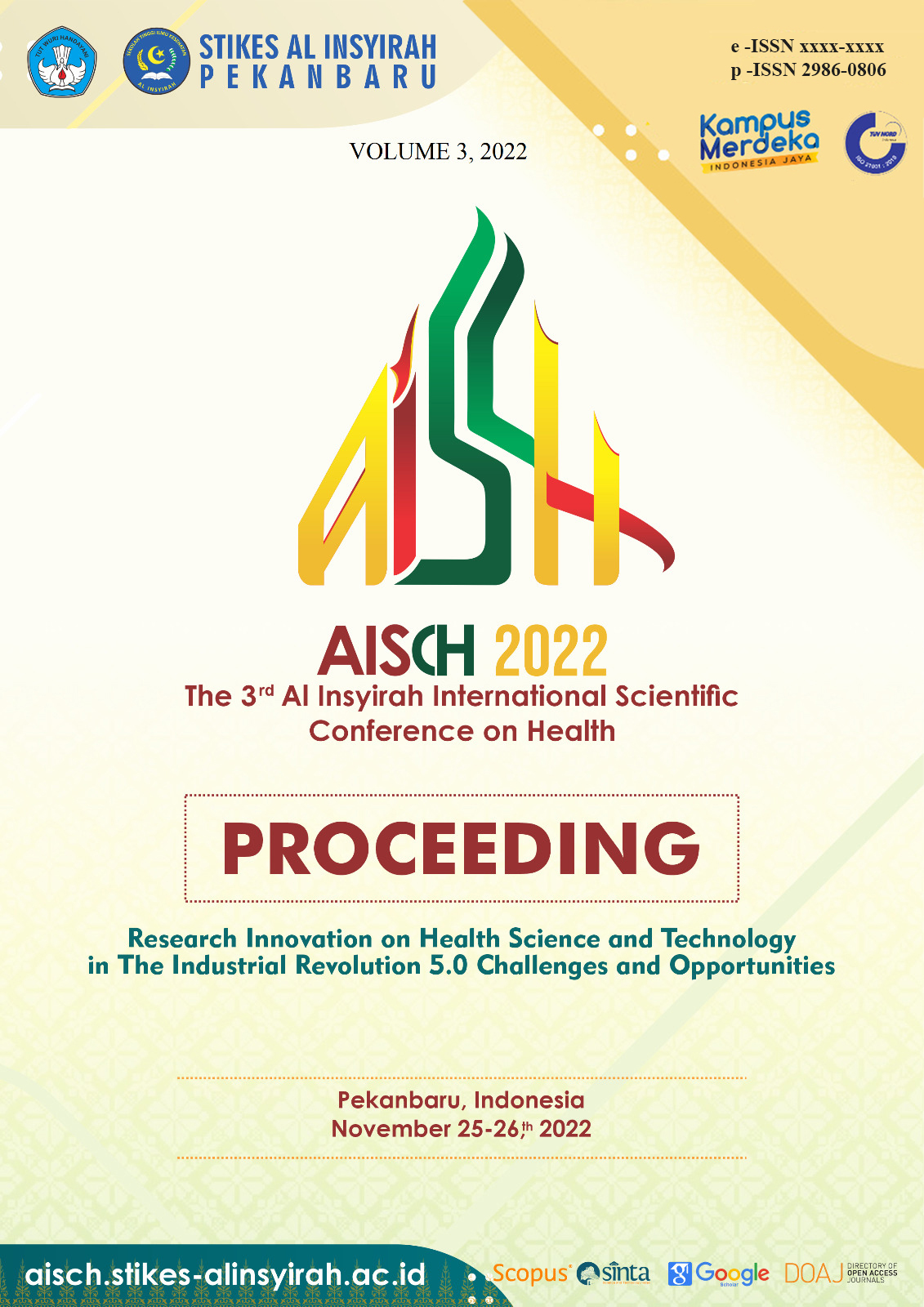 Downloads
License
Copyright (c) 2022 Al Insyirah International Scientific Conference on Health
This work is licensed under a Creative Commons Attribution 4.0 International License.