MINDFULNESS APPLICATION FOR MANAGEMENT SYMPTOMS OF HYPERTENSION: LITERATURE REVIEW
Keywords:
Mindfulness, Hypertension, Symptom Management
Abstract
Hypertension is cardiovascular disease that increasing, many symptom that caused oh hypertension such as insomnia, headache, high blood pressure, anxiety and many more that caused quality of life decrease. The application of mindfulness therapy to be expected provide benefit in symptom management of hypertension.The purpose of this article was to explore the evidence about the application of mindfulness therapy for symptoms management in hypertension. We conducted a literature review in several database such as PubMed, Science Direct in July 2022.  We use the search terms "mindfulness" OR "behavioral therapy" AND "hypertension" OR "high blood pressure". Only RCT and clinical trial included that discuss about intervention to maintain symptoms hypertension patient. There are 11 articles that included that discuss about the mindfulness application to maintain symptoms of hypertension. There are 11 articles that summarize and all articles with RCT and Clinical trial using mindfulness intervention such as Mind-Body Practice Relaxation Response(MB-RR), Mind-Body Stress Reduction, Mindfulness based Blood Pressure Reduction (MB-BP), Chi-Running, Purse-lip breathing, MBSR-ELDERSHINE, Yoga  Mindfulness in Motion (MM),Mindfulness based cognitive Therapy (MBCT) and Mindfulness Meditation . There are intervention that use into management symptoms of hypertension. This literature review conclude that mindfulness have the beneficial effect on management symptoms of hypertension. Mindfulness provide the psychological approach to maintain the physiological response that could lower the blood pressure of hypertensive participants but also target mechanism must be more exploration.
References
Carretero OA, Oparil S. Essential Hypertension. Circulation. 2000;101(3):329-35.
Hayes SC, Wilson KG. Mindfulness: Method and process. Clinical Psychology: Science and Practice. 2003;10(2):161.
Creswell JD, Lindsay Ek Fau - Villalba DK, Villalba Dk Fau - Chin B, Chin B. Mindfulness Training and Physical Health: Mechanisms and Outcomes. (1534-7796 (Electronic)). eng.
Bhasin MK, Denninger JW, Huffman JC, Joseph MG, Niles H, Chad-Friedman E, et al. Specific Transcriptome Changes Associated with Blood Pressure Reduction in Hypertensive Patients After Relaxation Response Training. Journal of alternative and complementary medicine (New York, NY). 2018 May;24(5):486-504. PubMed PMID: 29616846. Pubmed Central PMCID: PMC5961875. Epub 2018/04/05. eng.
Blom K, Baker B, How M, Dai M, Irvine J, Abbey S, et al. Hypertension Analysis of Stress Reduction Using Mindfulness Meditation and Yoga: Results From the Harmony Randomized Controlled Trial. American Journal of Hypertension. 2013;27(1):122-9 %@ 0895-7061.
Hughes JW, Fresco DM, Myerscough R, van Dulmen MH, Carlson LE, Josephson R. Randomized controlled trial of mindfulness-based stress reduction for prehypertension. Psychosomatic medicine. 2013 Oct;75(8):721-8. PubMed PMID: 24127622. Pubmed Central PMCID: PMC3834730. Epub 2013/10/16. eng.
Loucks EB, Nardi WR, Gutman R, Kronish IM, Saadeh FB, Li Y, et al. Mindfulness-Based Blood Pressure Reduction (MB-BP): Stage 1 single-arm clinical trial. PloS one. 2019;14(11):e0223095. PubMed PMID: 31774807. Pubmed Central PMCID: PMC6881004 Mindfulness Center, a non-profit entity, has an Education Unit that provides mindfulness based program delivery to the general public for fees. However, Dr. Loucks's salary is not tied to quantity or content of programs offered through the Mindfulness Center. Dr. Loucks is a practicing Buddhist, and while the mindfulness elements of MBSR and MB-BP have roots in Buddhist philosophy, the intervention is designed for use in secular health settings, and does not encourage any particular religion. Additionally, conditions were put in place to limit the potential bias of Dr. Loucks's religious affiliation on study data interpretation. For example, the primary outcomes were preregistered on ClinicalTrials.gov. Dr. Loucks did not have access to the data file. He also did not perform the statistical analyses which were performed by an independent data analyst (Y.L.), or the qualitative coding and analyses that were led by three trained co-authors (W.N., A.W., J.W.). The data have been made publicly available using the OpenScience Framework. Dr. Britton is an MBSR and Mindfulness-Based Cognitive Therapy teacher. She has received payment to provide trainings on best practices for harms monitoring, measurement, and management. This does not alter our adherence to PLOS ONE policies on sharing data and materials. Epub 2019/11/28. eng.
Mc Dermott K, Kumar D, Goldman V, Feng H, Mehling W, Moskowitz JT, et al. Training in ChiRunning to reduce blood pressure: a randomized controlled pilot study. BMC complementary and alternative medicine. 2015 Oct 15;15:368. PubMed PMID: 26471194. Pubmed Central PMCID: PMC4608185. Epub 2015/10/17. eng.
Mitsungnern T, Srimookda N, Imoun S, Wansupong S, Kotruchin P. The effect of pursed-lip breathing combined with number counting on blood pressure and heart rate in hypertensive urgency patients: A randomized controlled trial. Journal of clinical hypertension (Greenwich, Conn). 2021 Mar;23(3):672-9. PubMed PMID: 33410589. Pubmed Central PMCID: PMC8029503. Epub 2021/01/08. eng.
Palta P, Page G, Piferi RL, Gill JM, Hayat MJ, Connolly AB, et al. Evaluation of a mindfulness-based intervention program to decrease blood pressure in low-income African-American older adults. Journal of urban health : bulletin of the New York Academy of Medicine. 2012 Apr;89(2):308-16. PubMed PMID: 22302233. Pubmed Central PMCID: PMC3324609. Epub 2012/02/04. eng.
Tolbaños Roche L, Miró Barrachina MT, Ibáñez Fernández I, Betancort M. YOGA and self-regulation in management of essential arterial hypertension and associated emotional symptomatology: A randomized controlled trial. Complementary Therapies in Clinical Practice. 2017 2017/11/01/;29:153-61.
Wright KD, Klatt MD, Adams IR, Nguyen CM, Mion LC, Tan A, et al. Mindfulness in Motion and Dietary Approaches to Stop Hypertension (DASH) in Hypertensive African Americans. Journal of the American Geriatrics Society. 2021 Mar;69(3):773-8. PubMed PMID: 33227157. Pubmed Central PMCID: PMC8329944. Epub 2020/11/24. eng.
Alamout MM, Rahmanian M, Aghamohammadi V, Mohammadi E, Nasiri K. Effectiveness of mindfulness based cognitive therapy on weight loss, improvement of hypertension and attentional bias to eating cues in overweight people. (2352-0132 (Electronic)). eng.
Park J, Lyles RH, Bauer-Wu S. Mindfulness meditation lowers muscle sympathetic nerve activity and blood pressure in African-American males with chronic kidney disease. American journal of physiology Regulatory, integrative and comparative physiology. 2014 Jul 1;307(1):R93-R101. PubMed PMID: 24829497. Pubmed Central PMCID: PMC4080275. Epub 2014/05/16. eng.
Mackay J, Mensah GA, Greenlund K. The atlas of heart disease and stroke: World Health Organization; 2004.
Müller A, Montoya P, Schandry R, Hartl L. Changes in physical symptoms, blood pressure and quality of life over 30 days. Behaviour research and therapy. 1994;32(6):593-603.
Frishman WH, Beravol P, Carosella C. Alternative and Complementary Medicine for Preventing and Treating Cardiovascular Disease. Disease-a-Month. 2009 2009/03/01/;55(3):121-92.
Ponte Márquez PH, Feliu-Soler A, Solé-Villa MJ, Matas-Pericas L, Filella-Agullo D, Ruiz-Herrerias M, et al. Benefits of mindfulness meditation in reducing blood pressure and stress in patients with arterial hypertension. Journal of human hypertension. 2019;33(3):237-47.
Simkin DR, Black NB. Meditation and Mindfulness in Clinical Practice. Child and Adolescent Psychiatric Clinics of North America. 2014 2014/07/01/;23(3):487-534.
Niazi AK, Niazi SK. Mindfulness-based stress reduction: a non-pharmacological approach for chronic illnesses. N Am J Med Sci. 2011;3(1):20-3. PubMed PMID: 22540058. eng.
An E, Irwin MR, Doering LV, Brecht M-L, Watson KE, Corwin E, et al. Mindfulness effects on lifestyle behavior and blood pressure: A randomized controlled trial. Health Sci Rep. 2021;4(2):e296-e. PubMed PMID: 34136657. eng.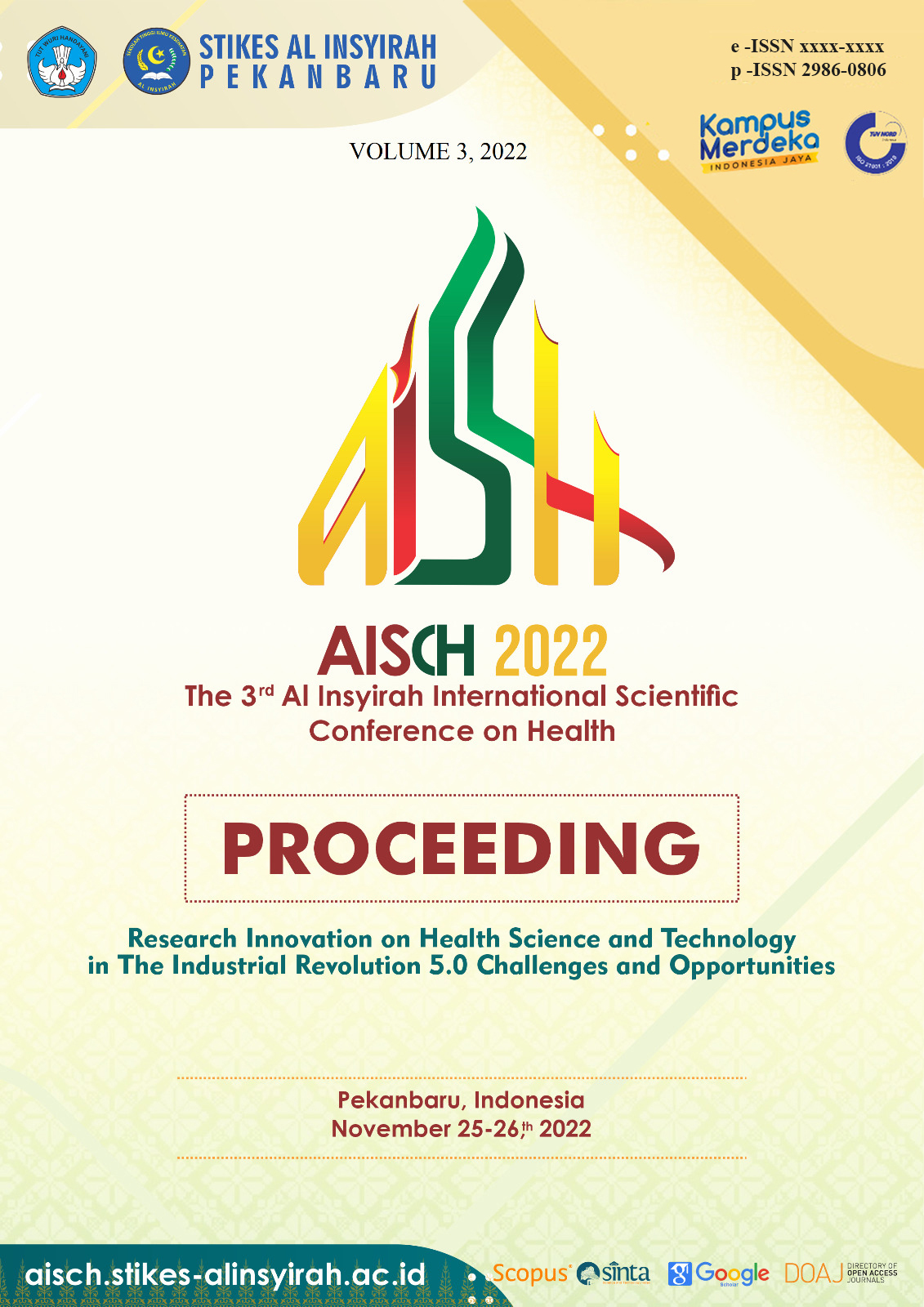 Downloads
License
Copyright (c) 2022 Al Insyirah International Scientific Conference on Health
This work is licensed under a Creative Commons Attribution 4.0 International License.