THE URGENCY OF DEVELOPING AUTOMATED AUDIO SYSTEM FOR HEALTH EDUCATION TOOLS FOR DENGUE FEVER PREVENTION
Abstract
Background: Dengue fever keeps increasing every year, so to reduce the incidence of dengue fever, prevention efforts are needed with health promotion efforts in the community. So far, health promotion has been running by gathering residents, and therefore it is necessary to have an automatic way of health education that can be targeted directly at residents.Objective: To investigate an urgency of automated audio system tools as away to prevent dengue fever. Method: Qualitative research method and focus group discussion was employed in this study. Some experts and residentswere invited as subjects of the tool, and eleven key informants were employed to decide the proper model for the tool. Result: The results of interviewsshowed that the tool was approved with some conditions such as considering the proper design, duration, and the placement of the tool at residents' homes.Conclusion: the automated audio system tool could be used for health education that works automatically to spread information related to dengue fever prevention for the community, so they could do the prevention at home.
References
Mukaromah VF. kasus DBD 2019 dan 2020. 2020; Available from: https://www.kompas.com/tren/read/2020/06/22/193500165/melihat-kasus-dbd-pada- 2019-dan-2020-saat-pandemi-virus-corona
Patil CD, Borase HP, Patil S V, Salunkhe RB, Salunke BK. Larvicidal activity of silver nanoparticles synthesized using Pergularia daemia plant latex against Aedes aegypti and Anopheles stephensi and nontarget fish Poecillia reticulata. Parasitol Res. Germany; 2012 Aug;111(2):555–62.
Nuntaboot K, Wiliyanarti PF. Community social capital on fighting dengue fever in suburban Surabaya, Indonesia: A qualitative study. Int J Nurs Sci. Elsevier; 2017;4(4):374–7.
Kementrian Kesehatan RI. InfoDatin Situas Demam Berdarah Dengue. Vol. 31, Journal of Vector Ecology. 2018. p. 71–8.
Faridah L, Rinawan FR, Fauziah N, Mayasari W, Dwiartama A, Watanabe K. Evaluation of health information system (HIS) in the surveillance of dengue in Indonesia: lessons from case in Bandung, West Java. Int J Environ Res Public Health. MDPI; 2020;17(5):1795.
Azfar M, Omarulharis S, Azfar H, Maryam A, Hafizah S, Adibah BAH, et al. Knowledge, attitude and practice of dengue prevention among sub urban community in Sepang, Selangor. Int J Public Heal Clin Sci. 2017;4(2):73–83.
Acharya AS, Prakash A, Saxena P, Nigam A. Sampling: Why and how of it. Indian J Med Spec. 2013;4(2):330–3.
Mishra L. Focus group discussion in qualitative research. Techno Learn. New Delhi Publishers; 2016;6(1):1.
Wilder-Smith A, Tissera H, AbuBakar S, Kittayapong P, Logan J, Neumayr A, et al. Novel tools for the surveillance and control of dengue: findings by the DengueTools research consortium. Glob Health Action. Taylor & Francis; 2018;11(1):1549930.
Baniasadi T, Ayyoubzadeh SM, Mohammadzadeh N. Challenges and practical considerations in applying virtual reality in medical education and treatment. Oman Med J. Oman Medical Specialty Board; 2020;35(3):e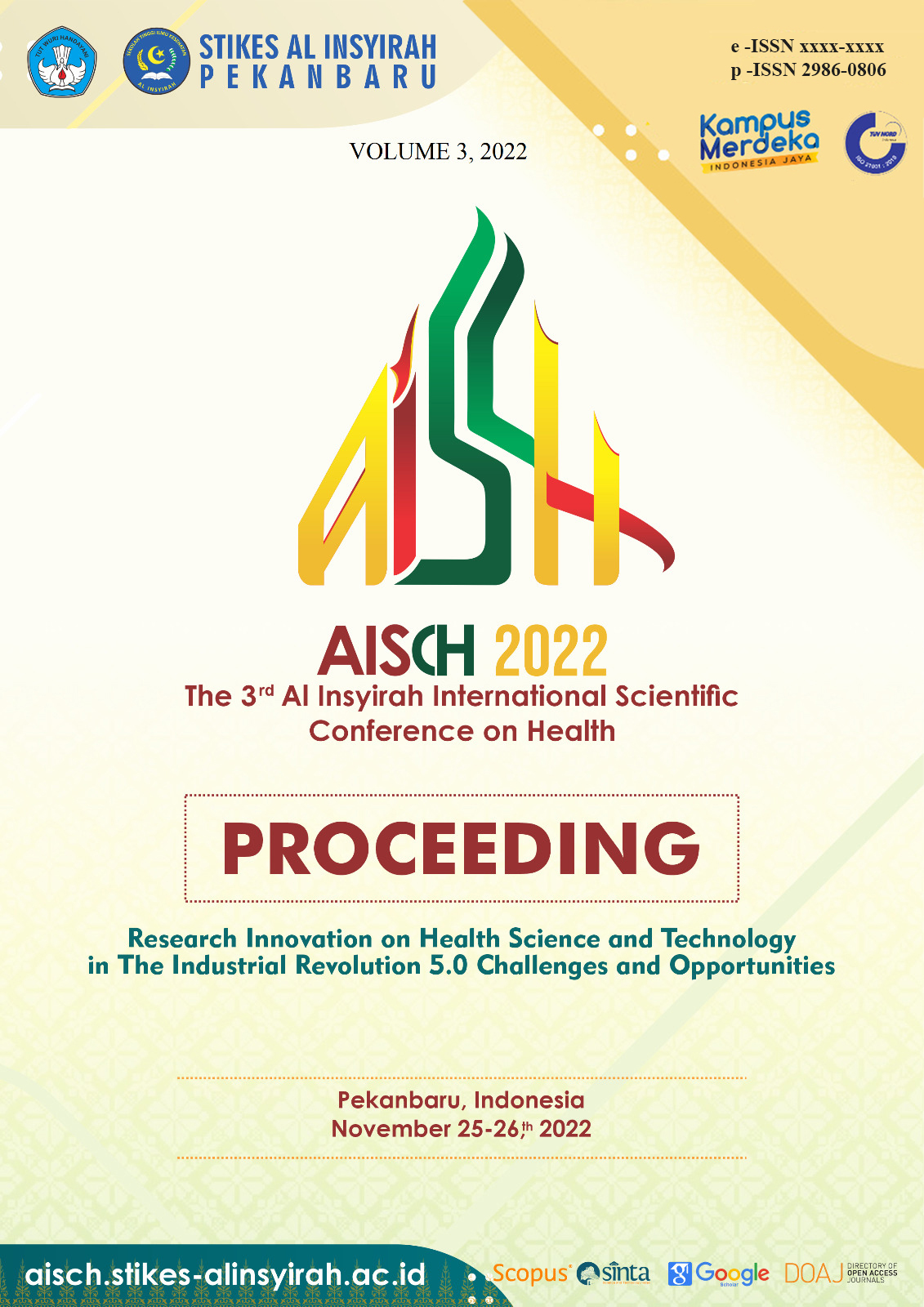 Downloads
License
Copyright (c) 2022 Al Insyirah International Scientific Conference on Health
This work is licensed under a Creative Commons Attribution 4.0 International License.