HUBUNGAN KEBIASAAN SARAPAN PAGI DENGAN KEJADIAN ANEMIA PADA REMAJA PUTRI DI SMP NEGERI 20 PEKANBARU
Keywords:
Young Women, Habits breakfast, Anemia
Abstract
Adolescents need the nutrients that serve as a source of energy as well as play a role in the body's metabolism, including the formation of hemoglobin. Nutrient intake would be reduced to 30%, if someone skips breakfast and directly reduces the production of hemoglobin, causing anemia. The results of a preliminary survey conducted by researchers in the form of interviews and examination of hemoglobin levels obtained from 4 of 10 female students often have breakfast at home and one of them suffered from anemia, 3 female students sometimes have breakfast and do not suffer from anemia, while 3 others rarely even do not eat breakfast and 2 of them suffer from anemia. The purpose of this study determines the relationship with the morning breakfast habits with anemia onyoung girls in 20 Junior High School. The type of this research is quantitative analytical with cross sectional design. The population of young women class VII and VIII amounts to 411 people with a sample consists of 81 people. Sampleswere using simple random sampling technique. The research instrument was a questionnaire and digital Hb checker tool. Analysis were used by unvaried and bivariate data. Results showed from 28 respondents (63%) from the 51 respondents who do not eat breakfast are anemic. There is a morning breakfast habits relationship with the incidence of anemia with p value 0.024. Teens are expected to understand the benefits of breakfast by getting up early in order to have time for breakfast either at home or schools' canteen.
References
Ambarwati, F. R. (2012).Gizi dan Kesehatan Reproduksi Yogyakarta: Cakrawala Ilmu.
Choiriyah, E. W. (2015). Hubungan Tingkat Asupan Protein, Zat Besi dan Vitamin C dengan Kejadian Anemia pada Remaja Putri kelas X dan XI SMA Negeri 1 Polokarto. Surakarta: Publikasi Ilmiah.
Dinkes. Laporan Bulanan Pelayanan Infeksi Menular Seksual (IMS) (2016). pekanbaru: dinas kesehatan pekanbaru.
Hanif, F. P. (2013). Analisis Jenis, Jumlah, Dan Mutu Gizi Konsumsi Sarapan Anak Indonesia.
Kumalasari, I., & Andhyantoro, I. (2012). Kesehatan Reproduksi untuk Mahasiswa Kebidanan dan Keperawatan. Jakarta: salemba medika.
Lebang, E. (2014). Mitos dan Fakta Kesehatan. Jakarta: Kompas.
Setiawan, & Saryono. (2011). Metodologi Penelitian Kebidanan. Yogyakarta: Nuha Medika.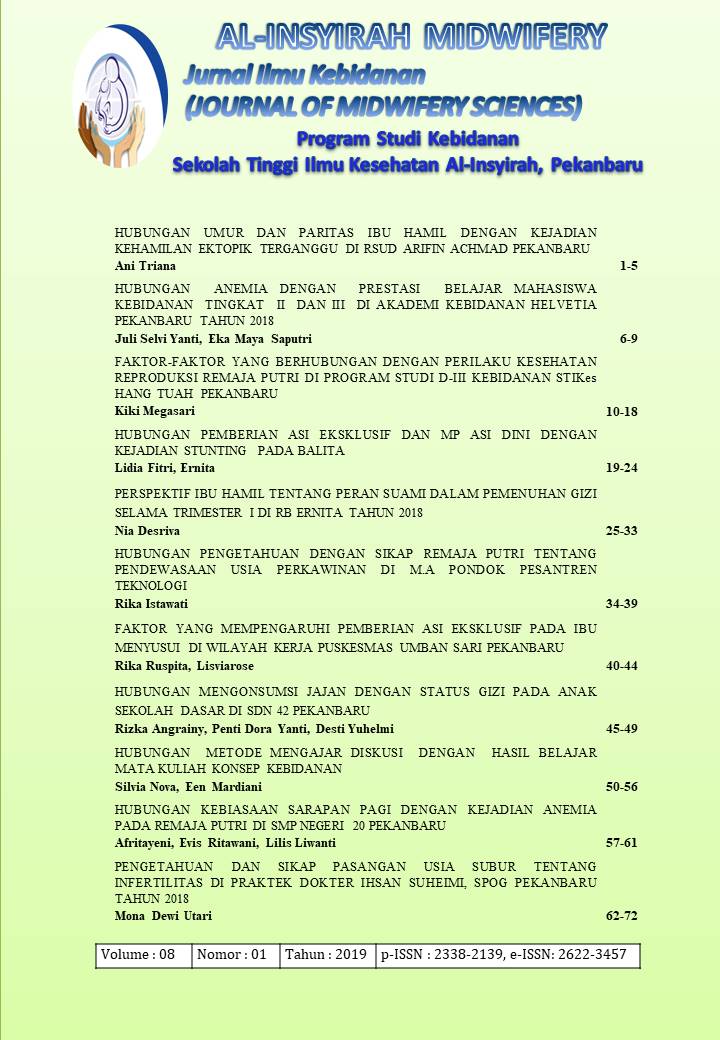 Downloads
How to Cite
afritayeni, afritayeni, Ritawani, E., & Liwanti, L. (2019). HUBUNGAN KEBIASAAN SARAPAN PAGI DENGAN KEJADIAN ANEMIA PADA REMAJA PUTRI DI SMP NEGERI 20 PEKANBARU. Al-Insyirah Midwifery: Jurnal Ilmu Kebidanan (Journal of Midwifery Sciences), 8(1), 57–61. Retrieved from https://jurnal.ikta.ac.id/kebidanan/article/view/113