HUBUNGAN UMUR DAN PARITAS IBU HAMIL DENGAN KEJADIAN KEHAMILAN EKTOPIK TERGANGGU DI RSUD ARIFIN ACHMAD PEKANBARU
Keywords:
Usia, paritas, KET, RSUD Arifin Achmad
Abstract
An ectopic pregnancy is a pregnancy that occurs outside the uterine cavity. Ectopic pregnancy is an experienced abortion referred to as ruptured ectopic pregnancy. Based on data from the WHO in 2003 there was 1 in 250  (0.04%) births in the world suffer from an ectopic pregnancy, the gestational type of ectopic pregnancy is the fallopian tubes, the majority (80%) experienced by women at the age of 30 years and above and reported that 60% experienced by women with a first pregnancy and the second aim of this study was to determine the relationship of maternal age and parity with the incidence of KET Arifin Achmad Hospital in Pekanbaru. This type of analytic studies (case-control). Population of 114 people with a total population of retrieval techniques as 57 for case and 57 for controls, using secondary data, in room Seagull III and Medical Records. Bivariate data analysis is performed with computerized as a benchmark for the discussion and conclusions. The result showed that there are age and parity relationship with the incidence of ruptured ectopic pregnancy in hospitals Arifin Achmad Pekanbaru In 2012, at the age of Pvalue 0.024 <α 0.05 and Pvalue parity of 0.023 <α 0.05. Arifin Achmad hospital is expected to provide midwifery services through antenatal care services in early detection of emergency obstetric.
References
Cunningham, dkk. 2006. Obstetri Williams. Jakarta: EGC

Feryanto, A. 2012. Asuhan Kebidanan Patologis. Jakarta: Salemba Medika.

Fitriyani, AN, dkk. 2015. Hubungan antara Usia, Paritas dan Riwayat Medik dengan Kehamilan Ektopik Terganggu. Prosiding Pendidikan Dokter. ISSN: 2460-657X. Prosiding Penelitian Sivitas Akademika Unisba (Kesehatan).

Hartanto, H. 2004. Keluarga Berencana dan Kontrasepsi. Jakarta : Perpustakaan Nasional, Katalog Dalam Terbitan (KDT).

Prawirohardjo, S. 2005. Ilmu Kebidanan. Jakarta: PT Bina Pustaka Sarwono Prawirohardjo.

Prawirohardjo, S. 2009. Ilmu Kebidanan. Jakarta: PT Bina Pustaka Sarwono Prawirohardjo.

Pudiastuti, RD. 2012. Asuhan Kebidanan Pada Hamil Normal dan Patologi. Yogyakarta: Nuha Medika

Sulistiani. 2009. Faktor-faktor yang Berhubungan dengan Kehamilan Ektopik Terganggu di RSUD Arifin Achmad Tahun 2009, (online), Vol. 1, No. 1 (http://Library.USU.ac.id/index.php/component/journal/index.php?option=com-journal- review&id=12158&task, diakses 4 Januari 2013).

Survei Demografi dan Kesehatan, 2012. dalam
http://mukomukokab.bps.go.id/index.php/hot-news/116-survei-demografi-dan-kesehatan-indonesia-2012-sdki12
diakses 5 Januari 2013

Wiknjosastro, 2005. Pengantar Ilmu dan Praktek Kebidanan. Jakarta: PT Bina Pustaka Sarwono Prawirohardjo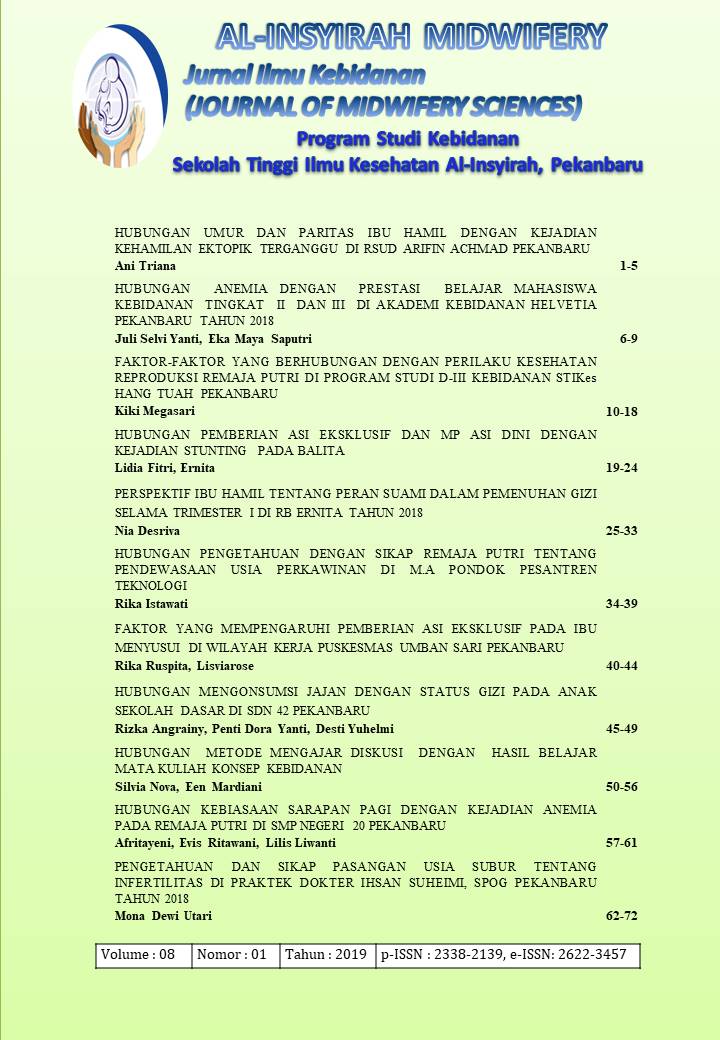 Downloads
How to Cite
Triana, A. (2019). HUBUNGAN UMUR DAN PARITAS IBU HAMIL DENGAN KEJADIAN KEHAMILAN EKTOPIK TERGANGGU DI RSUD ARIFIN ACHMAD PEKANBARU. Al-Insyirah Midwifery: Jurnal Ilmu Kebidanan (Journal of Midwifery Sciences), 8(1), 1–5. Retrieved from https://jurnal.ikta.ac.id/kebidanan/article/view/124