PENGARUH TERAPI MURATTAL AL-QURAN TERHADAP TINGKAT SKALA HALUSINASI PENDENGARAN PADA PASIEN SKIZOFRENIA DI RSU Dr.H.KOESNADI BONDOWOSO
Abstract
Mental health is still a significant health problem in the world, including in Indonesia. According to WHO data (2016), there are about 35 million people affected by depression, 60 million people affected by bipolar, 21 million affected by schizophrenia, and 47.5 million affected by dementia. The results of the 2018 Riskesdas, show the prevalence of households with members suffering from schizophrenia/psychosis of 7/1000 with treatment coverage of 84.9%. uses a pre-experimental design One group research design. With a sample of patients who are inpatients at the Seroja Pavilion with auditory hallucinations. The results of the data analysis using the Wilcoxon correlation test, which obtained a P value of 0.01. The conclusion which means that there is an effect of Murottal Al-Quran therapy on the level of the auditory hallucinations scale in schizophrenia patients.
Keywords: Mental Health, Auditory Hallucinations, Murottal Al-Quran Therapy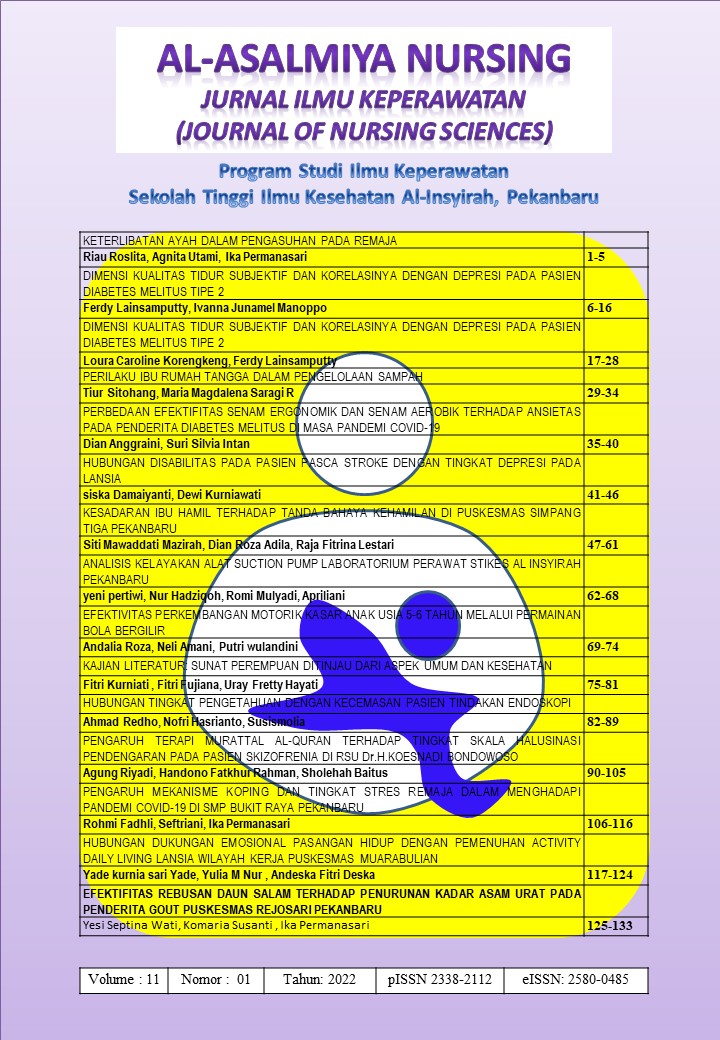 Downloads
How to Cite
Agung Riyadi, Handono Fatkhur Rahman, & Sholehah Baitus. (2022). PENGARUH TERAPI MURATTAL AL-QURAN TERHADAP TINGKAT SKALA HALUSINASI PENDENGARAN PADA PASIEN SKIZOFRENIA DI RSU Dr.H.KOESNADI BONDOWOSO . Al-Asalmiya Nursing: Jurnal Ilmu Keperawatan (Journal of Nursing Sciences), 11(1). https://doi.org/10.35328/keperawatan.v11i1.2147
License
Copyright (c) 2022 Al-Asalmiya Nursing: Journal of Nursing Sciences
This work is licensed under a Creative Commons Attribution 4.0 International License.