KAJIAN TINGKAT KEPATUHAN DAN KETEPATAN PENGGUNAAN MASKER BAGI PEDAGANG DI PASAR TRADISIONAL SURAKARTA SEBAGAI UPAYA PENCEGAHAN PENYAKIT COVID-19
Abstract
The Covid-19 pandemic, according to PHEOC data from the Ministry of Health as of July 31, 2020, in Indonesia from 866,539 specimens examined, 108,376 confirmed cases, 5,131 cases (4.7%) died and 65,907 cases (60.8%) recovered and 37,316 cases in care. One of the government's programs to prevent the spread of Covid-19 is to use masks properly. The purpose of this study was to determine the level of compliance and accuracy of the use of masks for traders in traditional markets in Surakarta as an effort to prevent Covid-19 disease. This research was conducted using a descriptive survey of 5 markets in the city of Surakarta including the Gede market, Nusukan, Jongke, Kadiplo, and Sidodadi markets. The research sample was taken by random sampling as many as 200 traders in the traditional market of Surakarta. The results of this study indicate that the compliance of traders who interact and conduct transactions in traditional markets in Surakarta City is quite good, because 85% of traders obey using masks as a health protocol to prevent the transmission of the Covid-19 virus. However, the level of accuracy in using masks is still poor, because of the 200 respondents, only 25.24% traders use masks correctly. Suggestions, it is better for the Surakarta City Government, especially the Trade Office, to make regulations and increase socialization and supervision of traders and buyers who interact actively in traditional markets so that new clusters of Covid-19 spread in traditional markets are not formed.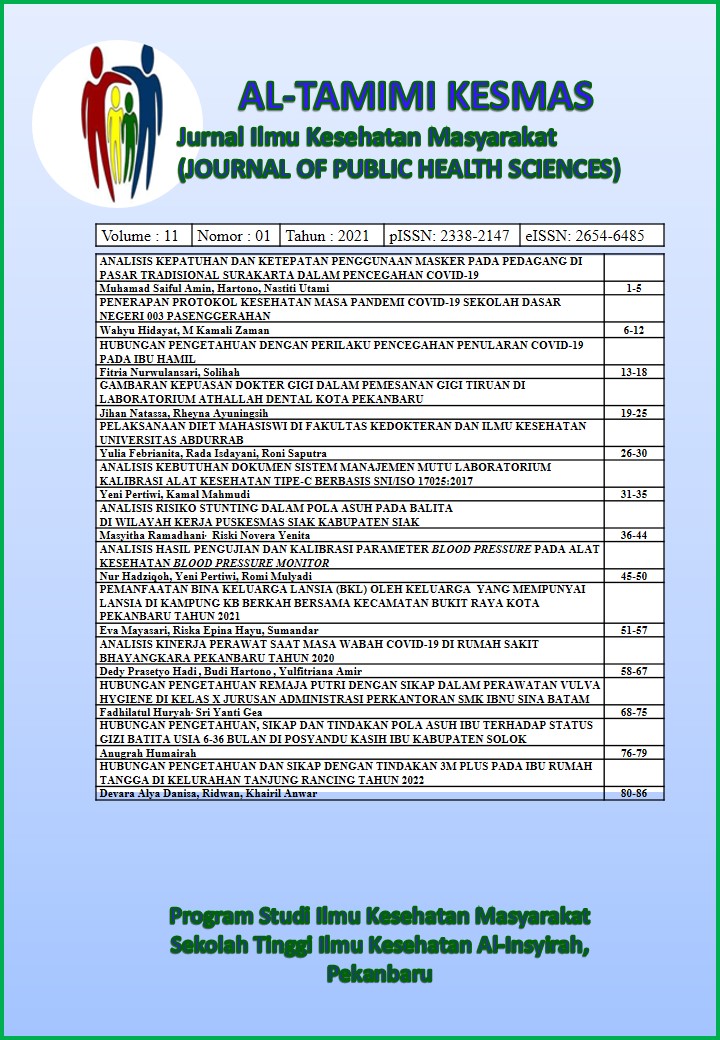 Downloads
How to Cite
Muhammad Saiful Amin, Hartono, & Utami, N. (2022). KAJIAN TINGKAT KEPATUHAN DAN KETEPATAN PENGGUNAAN MASKER BAGI PEDAGANG DI PASAR TRADISIONAL SURAKARTA SEBAGAI UPAYA PENCEGAHAN PENYAKIT COVID-19. Al-Tamimi Kesmas: Jurnal Ilmu Kesehatan Masyarakat (Journal of Public Health Sciences), 11(1), 1–5. https://doi.org/10.35328/kesmas.v11i1.2167
License
Copyright (c) 2022 Al-Tamimi Kesmas: Jurnal Ilmu Kesehatan Masyarakat (Journal of Public Health Sciences)
This work is licensed under a Creative Commons Attribution 4.0 International License.