UPAYA BIDAN DALAM MEMBERIKAN PELAYANAN ANTENATAL CARE YANG BERKUALITAS PADA MASA PANDEMI COVID-19 DI PMB BIDAN DELIMA WILAYAH BANJARMASIN TIMUR
Keywords:
Services, Midwives, Antenatal Care, COVID-19
Abstract
Background: The emergence of the COVID-19 virus outbreak has had an extraordinary impact on the world of health.  The COVID-19 pandemic has made pregnant women worry about coming to the hospital and health center for check-ups for fear of contracting COVID-19, which has resulted in pregnant women coming to PMB. The increase in the number of visits during the pandemic has caused midwives because of their increased workload, reduced staff numbers due to self-regression, they are quarantined, infected, or have to care for friends and family. The method in this study is a qualitative research with a generic qualitative research approach. Results: This study shows that there were several strategies used by midwives when providing services during the COVID-19 pandemic, namely in the form of providing facilities and online consultations; Some of the midwives' obstacles when providing services are expensive facilities and infrastructure, there are insufficient patients who are infected with COVID-19; While providing services, midwives receive emotional, informational, informative and instrumental support. For the physical and psychological needs of midwives when providing services, namely a healthy diet, adequate rest, reducing stress and regular exercise. Conclusion: The most dominant strategy for midwives in providing services is filling the infrastructure; The obstacles that are often experienced are expensive facilities and infrastructure; when providing services midwives need all types of support; physical and psychological needs, namely a healthy diet, adequate rest, reducing stress and an exercise routine.
References
S. P. M. González-Timoneda, Alba, Verónica Hernández Hernández, "'Experiences and Attitudes of Midwives during the Birth of a Pregnant Woman with COVID-19 Infection: A Qualitative Study.' Women and Birth.," 2020.
F. H. P. K. J. C. de M. N. Ornell, Felipe, Silvia Chwartzmann Halpern, "'The Impact of the COVID-19 Pandemic on the Mental Health of Healthcare Professionals.' Cadernos de Saúde Pública 36:e00063520. doi: 10.1590/0102-311x00063520.," 2020.
A. Fauzi, "'Implementasi Pebutasan Sosial Berskala Besar, Sebuah Kebijakan Publik Dalam Penanganan Pandemi COVID-19.' Jurnal Ilmu Administrasi Negara 16(1):174–178.," 2020.
G. C. D. R. 2020. Capanna, Federica, Ahmad Haydar, Catherine McCarey, Enrico Bernini Carri, Jose' Bartha Rasero, Valentina Tsibizova, Hanns Helmer, Alexander Makatsarya, "'Preparing an Obstetric Unit in the Heart of the Epidemic Strike of COVID-19: Quick Reorganization Tips.' The Journal of Maternal-Fetal & Neonatal Medicine 0(0):1–7. doi: 10.1080/14767058.2020.1749258.," 2020.
C. H. N. Cabarkapa, Sonja, Sarah E. Nadjidai, Jerome Murgier, "'The Psychological Impact of COVID-19 and Other Viral Epidemics on Frontline Healthcare Workers and Ways to Address It: A Rapid Systematic Review.' Brain, Behavior, & Immunity-Health 100144.," 2020.
R. S. van de V. Muller, Researcher Ashley Elizabeth, Researcher Synne Øien Stensland, "'The Mental Health Impact of the Covid-19 Pandemic on Healthcare Workers, and Interventions to Help Them: A Rapid Systematic Review.' Psychiatry Research 113441.," 2020.
S. M. Htay, Mila Nu Nu, Roy Rillera Marzo, Rafidah Bahari, Ayesha AlRifai, Fatjona Kamberi, Radwa Abdullah El-Abasiri, Jeldah Mokeira Nyamache, Htet Aung Hlaing, Mayada Hassanein, "'How Healthcare Workers Are Coping with Mental Health Challenges during COVID-19 Pandemic?-A Cross-Sectional Multi-Countries Study.' Clinical Epidemiology and Global Health 11:100759.," 2021.
T. E. P. de B.-F. Fukuti, Pedro, Caroline Louise Mesquita Uchôa, Marina Flaborea Mazzoco, Felipe Corchs, Carla Satie Kamitsuji, Luciane De Rossi, Izabel Cristina Rios, Selma Lancman, Eloisa Bonfa, and Tarcisio Eloy Pessoa de Barros-Filho. 2020. Fukuti, Pedro, Caroline Loui, "'How Institutions Can Protect the Mental Health and Psychosocial Well-Being of Their Healthcare Workers in the Current COVID-19 Pandemic.,'" 2020.
N. U. L. Kusumawardani, Devi Arine, Globila Nurika, "'The Mental Health of Medical Workers During The Covid-19 Pandemic: How Do We Manage It?' JURNAL KESEHATAN LINGKUNGAN 12(1si):21–28.," 2020.
L. E. Fernandez, Ritin, Heidi Lord, Elizabeth Halcomb, Lorna Moxham, Rebekkah Middleton, Ibrahim Alananzeh, ""Implications for COVID-19: A Systematic Review of Nurses' Experiences of Working in Acute Care Hospital Settings during a Respiratory Pandemic." International Journal of Nursing Studies 111:103637.," 2020.
A. K. J. Ranney, Megan L., Valerie Griffeth, "'Critical Supply Shortages — The Need for Ventilators and Personal Protective Equipment during the Covid-19 Pandemic.' New England Journal of Medicine 382(18):e41. doi: 10.1056/NEJMp2006141.," 2020.
O. Jeburwati, "'Stres Dan Dukungan Sosial Pada Perawat, Dokter Dan Tenaga Kesehatan Pada Masa Pandemi Covid-19.' Psisula: Prosiding Berkala Psikologi 2:292–299.," 2020.
X. L. Chen, Qiongni, Mining Liang, Yamin Li, Jincai Guo, Dongxue Fei, Ling Wang, L. I. He, Caihua Sheng, Yiwen Cai, "'Mental Health Care for Medical Staff in China during the COVID-19 Outbreak.' The Lancet Psychiatry 7(4):e15–e16.," 2020.
G. L. Tomlin, Jack, Bryan Dalgleish-Warburton, "'Psychosocial Support for Healthcare Workers during the COVID-19 Pandemic.' Frontiers in Psychology 11:1960."
F. M. Janighorban, Moghgan, Zeinab Heidari, Azam Dadkhah, "'Women's Needs on Bed Rest during High-Risk Pregnancy and Postpartum Period: A Qualitative Study.' Journal of Midwifery and Reproductive Health 6(3):1327–1335.," 2018.
A. R. Rossi, Rodolfo, Valentina Socci, Francesca Pacitti, Giorgio Di Lorenzo, Antinisca Di Marco, Alberto Siracusano, "'Mental Health Outcomes among Front and Second Line Health Workers Associated with the COVID-19 Pandemic in Italy.' MedRxiv."
and V. F. Pallangyo, Eunice, Mary Grace Nakate, Rose Maina, ""The Impact of Covid-19 on Midwives' Practice in Kenya, Uganda and Tanzania: A Reflective Account." Midwifery 89:102775. doi: 10.1016/j.midw.2020.102775.," 2020.
"Lai, Jianbo, Simeng Ma, Ying Wang, Zhongxiang Cai, Jianbo Hu, Ning Wei, Jiang Wu, Hui Du, Tingting Chen, Ruiting Li, Huawei Tan, Lijun Kang, Lihua Yao, Manli Huang, Huafen Wang, Gaohua Wang, Zhongchun Liu, and Shaohua Hu. 2020. "Factors Associated With Me."
M. Petrescu, "'From Marketing to Public Value: Towards a Theory of Public Service Ecosystems.' Public Management Review 21(11):1733–1752.," 2019.
M. P. B. Hole, Yogesh, Snehal Pawar, "'Service Marketing and Quality Strategies.' Periodicals of Engineering and Natural Sciences (PEN) 6(1):182–196.," 2018.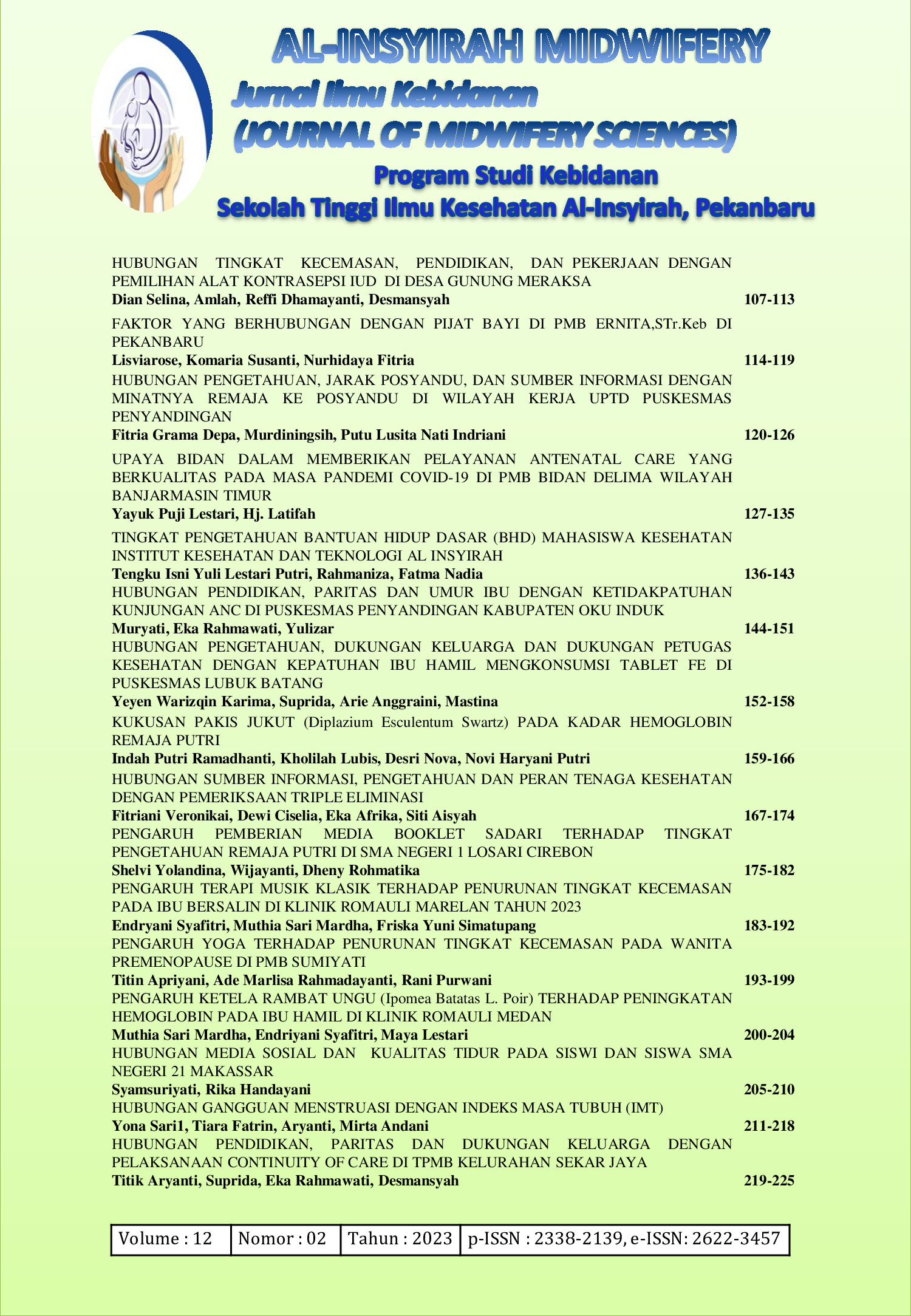 Downloads
License
Copyright (c) 2023 Al-Insyirah Midwifery: Jurnal Ilmu Kebidanan (Journal of Midwifery Sciences)
This work is licensed under a Creative Commons Attribution 4.0 International License.
How to Cite
UPAYA BIDAN DALAM MEMBERIKAN PELAYANAN ANTENATAL CARE YANG BERKUALITAS PADA MASA PANDEMI COVID-19 DI PMB BIDAN DELIMA WILAYAH BANJARMASIN TIMUR. (2023).
Al-Insyirah Midwifery: Jurnal Ilmu Kebidanan (Journal of Midwifery Sciences)
,
12
(2), 127-135.
https://doi.org/10.35328/kebidanan.v12i2.2477