ANALISIS STRATEGI DIFERENSIASI DALAM PELAYANAN BEAUTY SPA & SPA BABY TERHADAP KEUNGGULAN BERSAING DI RSIA ERIA BUNDA PEKANBARU
Keywords:
Differentiation strategy, differentiation image, services, personnel, product, channel
Abstract
Beauty Spa & Spa baby is a service which is taken into account by RSIA Eria Bunda Pekanbaru to cope with the competition among the hospitals.Based on preliminary observations research, mother and child hospital Pekanbaru having services Beauty Spa & Spa baby Who have not owned by another hospital so that it can be renders it a strategy differentiation compete for excellence. This research aims to know the analysis of the strategy of product differentiation, service, personnel, channel and image in the serviceBeauty Spa & Spa babyAgainst excellence compete in mother and child hospital pekanbaru Years 2015. A method of research with the design descriptive qualitative research carried out mother and child hospital Pekanbaruapril 2015. A subject in research is the director, marketing staff, the head of finance, the head of the room and executive services Beauty Spa & Spa Baby, and patients and visitors.Data collection was done in the in-depth interviews with the informants and by doing observation. The results of research product differentiation among other Day spa product to the public and mainstay product namely spa services for mother in the aftermath of childbirth and babies.differentiation of services among othersSpa treatments do directly into the room without lowering the patient to patient spa room.Diferentiation of personnel among others Expert fisioteraphy, and skilled in the fields of beauty.Differentiation channel for currently serving patients/visitors in hospital.Differentiation image among othersThe product services can be enjoyed every patients and visitors in rsia eria mother , and the price package baby spa affordable. The conclusion of this study is differentiation strategy service Beauty Spa & Spa baby inmother and child hospital Pekanbaru yaers 2015 has been good enough.Then suggested to the hospital to improve the product of different services with competitors, designing distribution channels and improve promotion to patients and visitors of more aware of the excellence of these services.
References
Firmaningtyas, F. (2012). Pendekatan Dunia Spa Baby kepada Anak-Anak dengan Tema Lebih melalui Sentuhan Desain Interior Studi Kasus : Spa Baby Little Bee Surabaya, (Online) (http://journal.ecs.soto.ac.uk/survey/survey.html, di akses 20 Januari 2015).

Hestianingsih, (2012). Yuk, Mengenal Berbagai Jenis Spa untuk Kecantikan & Kesehatan. (Online) (http://journal.ecs.soto.ac.uk/survey/survey.html, di akses 01 Februari 2015).

Lestari, D. E. (2005) Analisis Strategi Diferensiasi Yang Mempengaruhi Keunggulan Bersaing Dan Pengaruhnya Terhadap Kinerja Pemasaran (Studi Kasus Telkomflexi Classy Telkom Divre Iv Jawa Tengah Dan Diy). Tesis. Universitas Diponegoro Semarang.

Prasetya, F. (2011). Analisis Pengaruh Diferensiasi, Promosi, dan Positioning terhadap Keputusan Pembelian. Skripsi. Universitas Diponegoro Semarang.

Prasetya, GL, H, et all. (2007). Membangun Keunggulan Kompetitif Melalui Aliansi Stratejik untuk Meningkatkan Kinerja Perusahaan, (Online) (http://journal.ecs.soto.ac.uk/survey/survey.html, Vol.4. Juli 2007.

Pratiwi, R. A. (2013). Pengaruh Pijat Bayi Terhadap Perkembangan Bayi Di Desa Pandak Kecamatan Baturraden Kabupaten Banyumas. Skripsi. Universitas Jenderal Soedirman Purwokerto.

Ramadhani, D.S dan Lita, R. P (2013). Pengaruh Strategi Diferensiasi Terhadap Keunggulan Bersaing ( Studi Kasus Pada Konsumen Darmarindo Digital printing di Padang. (Onlike),(http://journal.ecs.soto.ac.uk/survey/survey.html, di akses 01 Februari 2015).

Saryono, Anggraeni, M, D. (2013). Metodologi Penelitian Kualitatif dan Kuantitatif. Yogyakarta: Nuha Medika.

Supranoto, M. (2009). Strategi Menciptakan Keunggulan Bersaing Produk Melalui Orientasi Pasar , Inovasi, Dan Orientasi Kewirausahaan Dalam Rangka Meningkatkan Kinerja Pemasaran. Tesis. Universitas Diponegoro Semarang.

Susilowati, R. (2005). Membangun Keunggulan Bersaing Melalui Penataan Internal Rumah Sakit. Tesis. Unversitas diponegoro Semarang.

Sugiyono (2008). Metode Penelitian Kuantitatif, Kualitatif dan R&D. Jakarta: CV. ALFABETA.

Widodo, A, Afrina, D.N. (2013). Efektifitas Baby Spa Terhadap lamanya Tidur Bayi Usia 3 – 4 Bulan, (Onlike),(http://journal.ecs.soto.ac.uk/survey/survey.html, di akses 20 Januari 2015).

SPA Ibu Hamil dan Bayi di Nina Bobo. (06 Oktober 2011). Pekanbaru. (Online) http://halloriau.com/read-belanja-15563-2011-10-06-spa-ibu-hamil-dab-bayi-di-nina-bobo.html, Di akses 25 Juni (2015).

Salim, A. N, Susilowati., & Probandari, A. (2013). Evaluasi Efek Relationship Marketing pada Pelayanan Skin Care di Rumah Sakit PKU Muhammadiyah Yogyakarta. STIKes Hang Tuah Pekanbaru. Jurnal Kesehatan Komunitas, Vol. 2, No. 3, November 2013.

Yeni, F. (2013). Pengaruh Keunggulan Bersaing Diferensiasi Terhadap Minat Beli Ulang Konsumen pada KFC di Kota Padang. (Online) (http://journal.ecs.soto.ac.uk/survey/survey.html, di akses 4 Juni (2015).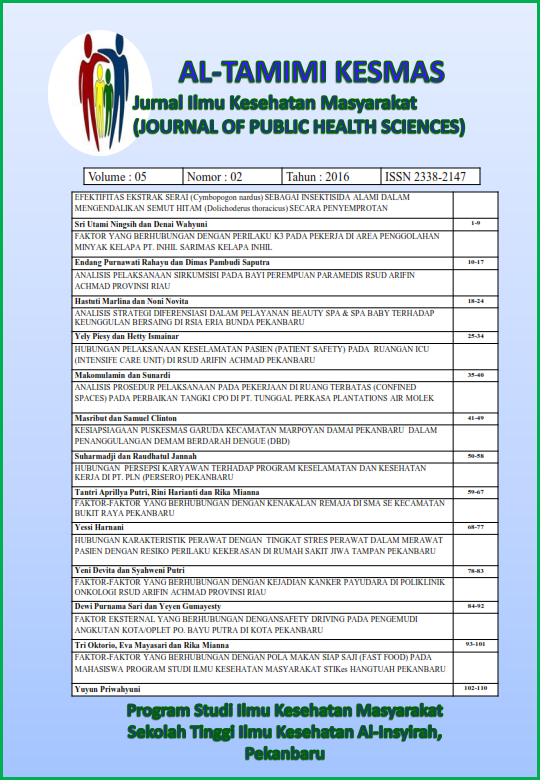 Downloads
How to Cite
Al-Insyirah, L. (2018). ANALISIS STRATEGI DIFERENSIASI DALAM PELAYANAN BEAUTY SPA & SPA BABY TERHADAP KEUNGGULAN BERSAING DI RSIA ERIA BUNDA PEKANBARU. Al-Tamimi Kesmas: Jurnal Ilmu Kesehatan Masyarakat (Journal of Public Health Sciences), 5(2), 25–34. Retrieved from https://jurnal.ikta.ac.id/kesmas/article/view/93