ANALISIS PROSEDUR PELAKSANAAN PADA PEKERJAAN DI RUANG TERBATAS (CONFINED SPACES) PADA PERBAIKAN TANGKI CPO DI PT. TUNGGAL PERKASA PLANTATIONS AIR MOLEK
Keywords:
Procedure, Identification, Control Risk, Confined Spaces, CPO Tank
Abstract
The implementation of the assessment and risk control on the job in a limited space tank repair CPO in PT. Tunggal Perkasa Plantations Air Molek,good indispensable in which the object is to avoid of work accident and disease caused by work besides that manpower employment was asset for the company. As for this study aims to be able to analyze the potential danger confined spaces works on improving CPO tank in PT. Tunggal Perkasa plantations Air Molek 2015. Research conducted at the PT. Tunggal Perkasa Plantations Air Molek, research time 1 month from April-May 2015 using a qualitative design. The main subject of this research totaled 4 people consists of the head of the factory, Assistant SHE, krani ADM, and CPO operator. Engineering data collection using in-depth interviews, observation and document searches. Obtained that the implementation of the assessment and control of risks of work space is limited to the repair of the tank has not been running (CPO) in accordance with the regulations, due to the lack of awareness of the company's management in cultivate K3 on workers as well as less effective supervision K3 company when supervising work related to confined spaces. In conclusion, all the variables on the assessment and control of risks of work space is limited yet implementation according to existing guidelines. Optimize the role SHE did in the company of problem identification and supervision while working to prevent the occurrence of accidents and occupational health disorders.
References
Ariana. (2013). Tipe-Tipe Tangki. Universitas Sriwijaya. (Online), http://scibd.com/doc/124850227/Tipe-Tipe-Tangki diakses 11 Februari 2015
Astika, S. (2014). Analisis Pelaksanaan Peraturan Pekerjaan Confined spaces pada Boiler di Pabrik Kelapa Sawit (PKS) Sei. Galuh PT. Perkebunan Nusantara V. Skripsi : Program Studi Ilmu Kesehatan Masyarakat Hang Tuah Pekanbaru
Baktiar. M. (2010). Self Contained Breathing Apparatus (SCBA). (Online), http://scibd.com/doc/237079275/ Self- Contained- Breathing- Apparatus diakses 8 Februari 2015
Baktiar. (2014). Jurnal K3 Vol. 2 Nomor 1- Portal Garuda. (Online), http://Portalgaruda.org/ diakses 9 Februari 2015
BKI. (2014). Petunjuk Masuk Ruang Tertutup. (Online). Hhtp://Klasifikasiindonesia.com/ diakses 19 April 2015
BNSP Training & Certification of Competency (2014). Pekanbaru: PT. Risk Care Service Indonesia
Budiono, A. M. S, & Adriana P., (Eds.). (2009). Bunga Rampai Hiperkes Dan Kk. Semarang : Badan Penerbit Univeritas Diponogoro Semarang.
Darmawansaputra, (2014). Bekerja Di Ruang Terbatas. (Online), http://darmawansaputra.com diakses 14 Februari 2014
Fitriana, R. (2011). KajianRisiko KeselamatanKerjapada Proses OverhaulTangki Timbun L3DiPT. Pertamina (Persero) RefineryUnitIIIPlaju–SungaiGerong Palembang. Skripsi: Universitas Indonesia
Kep. Dir. Jen. P.P.K No. KEP. 113/DJPPK/IX/2006 Tentang Pedoman Teknis Petugas K3 Ruang Terbatas
Kematian Korban Tongkang Maut Diduga Akibat Hirup Zat Kimia Riau (17 April 2015). RiauTerkini.Com
Ketentuan Pemerintah No. SE. 01 /MEN/PPK/IV/2012 Tentang Pemenuhan Kewajiban Syarat-Syarat Keselamatan dan Kesehatan Kerja di Ruang Terbatas/Confined Spaces
Kurniawan, (2014). Safety Zone- Bekerja di Ruang Terbatas (Working at Confined Spaces. (Online) http://
[email protected]
. diakses 17 April 2015
Menteri Tenaga Kerja Republik Indonesia Keputusan Menteri Tenaga Kerja No. Kep 51/Men/I999 Tentang Nilai Ambang Batas Faktor Fisika Di Tempat Kerja Menteri Tenaga Kerja
OSHA Standard CFR 19.10.146. Occupational Safety and Health Standard-Permit Required Confined Space Programs. USA: Us Dept. Of. Labor. (Online).http://osha.gov/pls/oshaweb/owadisp.show_document?p_id=9797&p_table= STANDARDS diakses 17 April 2015
Peraturan Pemerintah Republik Indonesia No. 11 Tahun 1979. Keselamatan Kerja Pada Pemurnian Dan Pengolahan Minyak Dan Gas Bumi. Jakarta
Peraturan Menteri Tenaga Kerja Dan Transmigrasi Republik Indonesia Nomor : Per.15/Men/VIII/2008 Tentang Pertolongan Pertama Pada Kecelakaan di Tempat Kerja Menteri Tenaga Kerja Dan Transmigrasi Republik Indonesia
Shipowners. (2013). Memasuki Ruangan Tertutup. (Online),http://www.shipownersclub.com/media/2014/05/enclosed-space-entry bahasa.pdf diakses 13 Februari 2015
Standar Nasional Indonesia. SNI 16-7063-2004 Tentang Nilai Ambang Batas: Iklim Kerja, Kebisingan, Getaran. Radiasi Sinar Ultra Ungu ditempat Kerja
Sulaksmono. (2013). Risk Assessment pada Pekerjaan Welding Confined Space
di Bagian Ship Building PT. Dok Dan Perkapalan Surabaya. Skripsi: Universitas Airlangga
Tarwaka. (2013). Dasar-Dasar Keselamatan Kerja Serta Pencegahan Kecelakaan di Tempat Kerja. Surakarta: Harapan Press
Toho. (2014). Pengenalan Gas Detector. (Online). http://scibd.com/doc/231619968/ Pengenalan-Gas-Detector. diakses 20 April 2015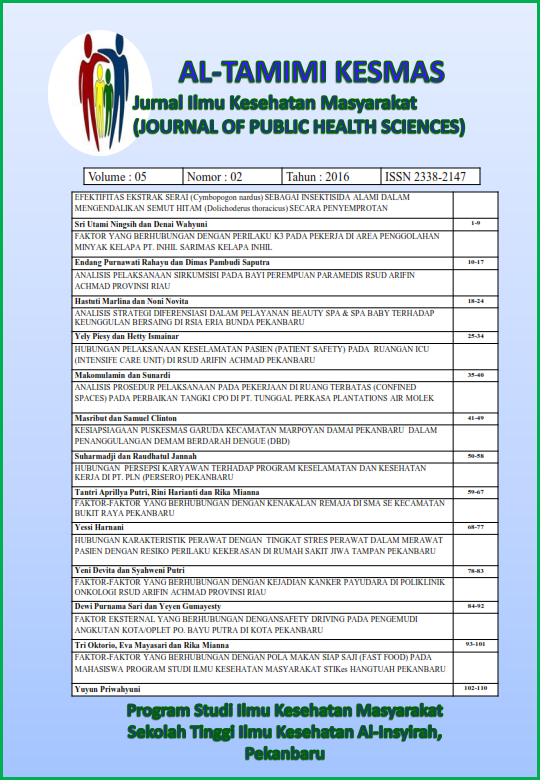 Downloads
How to Cite
Al-Insyirah, L. (2018). ANALISIS PROSEDUR PELAKSANAAN PADA PEKERJAAN DI RUANG TERBATAS (CONFINED SPACES) PADA PERBAIKAN TANGKI CPO DI PT. TUNGGAL PERKASA PLANTATIONS AIR MOLEK. Al-Tamimi Kesmas: Jurnal Ilmu Kesehatan Masyarakat (Journal of Public Health Sciences), 5(2), 41–49. Retrieved from https://jurnal.ikta.ac.id/kesmas/article/view/95