STIMULASI PERTUMBUH KEMBANGAN BAYI, BALITA SERTA ANAK PRASEKOLAH
Keywords:
Stimulation, Growth and Development
Abstract
Development is a qualitative functional change in both physical and mental functions as output of its association with environmental effects. Child development could be optimized in case the interaction is fits the needs of the child at many stages of development, eventhought the baby was not born yet. Also the right stimulation would stimulate toddler's brain to construct ability to move, speak, language, and independence in toddlers. Early test of growth and development problems could be done so we could identify toddler growth and development problem earlier, along with any complaints from parents towards their child's growth and development. The stimulation factors become more crucial towards child's development. Parental stimulation towards child development is a step implied in an ongoing interaction activity among parents with children to construct a great relationship, and facilitate children to construct their capabilities which include the development of great motor, gross motor, language also social capabilities based on the stage development.  However, this research method uses searching for analytical data by using literature reviews or reviews by looking for journals or articles that are relevant to the stimulation of the growth also development of babies, toddlers and preschool children. The population in this study were babies, toddlers and preschoolers who were experiencing a period of growth and development. Therefore babies, toddlers and preschoolers should be based on their developmental activities so parents could observe also stimulate development based on their ages.
References
Aisyiah, A. (2019). Pengaruh Stimulasi Pertumbuh kembangan Terhadap Perkembangan Anak Usia Prasekolah di Raudhatul Athfal An-Nur Jagakarsa, Jakarta Selatan. Journal Educational of Nursing(Jen), 2(1), 62–68. https://doi.org/10.37430/jen.v2i1.12
Dian, D., Rianti, D., Tinggi, S., Kesehatan, I., & Cirebon, M. (2019). DAN PERKEMBANGAN PADA ANAK USIA 3-48 BULAN DI TPA ANAK SHOLEH 2019.
Handayani & Margiyanti. (2021). Masyarakat Maju. Jurnal Pengabdian Dan Pemberdayaan Kepada Masyarakat, 25(1), 6–10.
Harahap, N. R. (2019). Hubungan Peran Orang Tua Terhadap Stimulasi Pertumbuh kembangan Motorik Halus Pada Anak Usia 4-5 Tahun Di Desa Pante Raya Kecamatan Wih Pesam Kabupaten Bener Meriah Tahun 2018. Jurnal Midwifery Update (MU), 1(1), 37. https://doi.org/10.32807/jmu.v1i1.39
Haryanti, D., Ashom, K., & Aeni, Q. (2019). Gambaran Perilaku Orang Tua Dalam Stimulasi Pada Anak Yang Mengalami Keterlambatan Perkembangan Usia 0-6 Tahun. Jurnal Keperawatan Jiwa, 6(2), 64. https://doi.org/10.26714/jkj.6.2.2018.64-70
Heryani, R. (2019). Buku Ajar Asuhan Kebidanan Neonatus Bayi, Balita dan Anak Pra Sekolah.
K, F. A., Hamsah, I. A., Darmiati, D., & Mirnawati, M. (2020). Deteksi Dini Pertumbuh kembangan Balita di Posyandu. Jurnal Ilmiah Kesehatan Sandi Husada, 12(2), 1003–1008. https://doi.org/10.35816/jiskh.v12i2.441
Masulili, F., & Sipatu, L. (2022). Jurnal Pengabdian Masyarakat Lentora Deteksi Dini , Stimulasi dan Intervensi Pertumbuhan Perkembangan Pada Balita di Puskesmas Tinggede Early Detection , Stimulation and Intervention of Growth Development in Toddlers at Tinggede Health Center tahun 2015 d. 1, 48–59. https://doi.org/10.33860/jpml.v1i2.1043
MISNIARTI, M., & HARYANI, S. (2022). Faktor-Faktor Yang Memengaruhi Ibu Dalam Melakukan Stimulasi Pertumbuh kembangan Pada Anak Toddler Di Wilayah Kerja Puskesmas Kabupaten Rejang Lebong. Journal of Nursing and Public Health, 10(1), 103–111. https://doi.org/10.37676/jnph.v10i1.2374
Nengsih, Y., & Nurzanah, E. M. (2022). 5. 1-5. 5(April), 1236–1243.
Nislawaty; Syukrianti Syahda. (2021). INTERVENSI DINI PERTUMBUH KEMBANGAN ( SDIDTK ) PADA BALITA DAN ANAK PRA Pendahuluan. 1(2), 1–8.
Nurul Abidah, S., & Novianti, H. (2020). Pengaruh Edukasi Stimulasi Pertumbuh kembangan terhadap Kemampuan Deteksi Dini Pertumbuh kembangan Anak Usia 0-5 Tahun oleh Orangtua. Poltekita : Jurnal Ilmu Kesehatan, 14(2), 89–93. https://doi.org/10.33860/jik.v14i2.132
Ratmawati, Lia Aria. Sulistyorini, D. (2021). Jurnal sains kebidanan. Analisis Kepuasan Ibu Bersalin Di Ruang Kebidanan, 3(1), 18–23. https://doi.org/10.31983/jsk.v4i1.8441
Setiawati, S., Dermawan, A. C., & Maryam, R. S. (2020). Peningkatan Status Perkembangan Anak Prasekolah dengan Stimulasi Perkembangan. Jkep, 5(2), 150–160. https://doi.org/10.32668/jkep.v5i2.363
Yuliani, D. A. (2022). Peran Bidan Dalam Implementasi Kebijakan Stimulasi Deteksi Dan Intervensi Dini Pertumbuh kembangan Anak. Jurnal Cakrawala Ilmiah, 1(8), 9–25.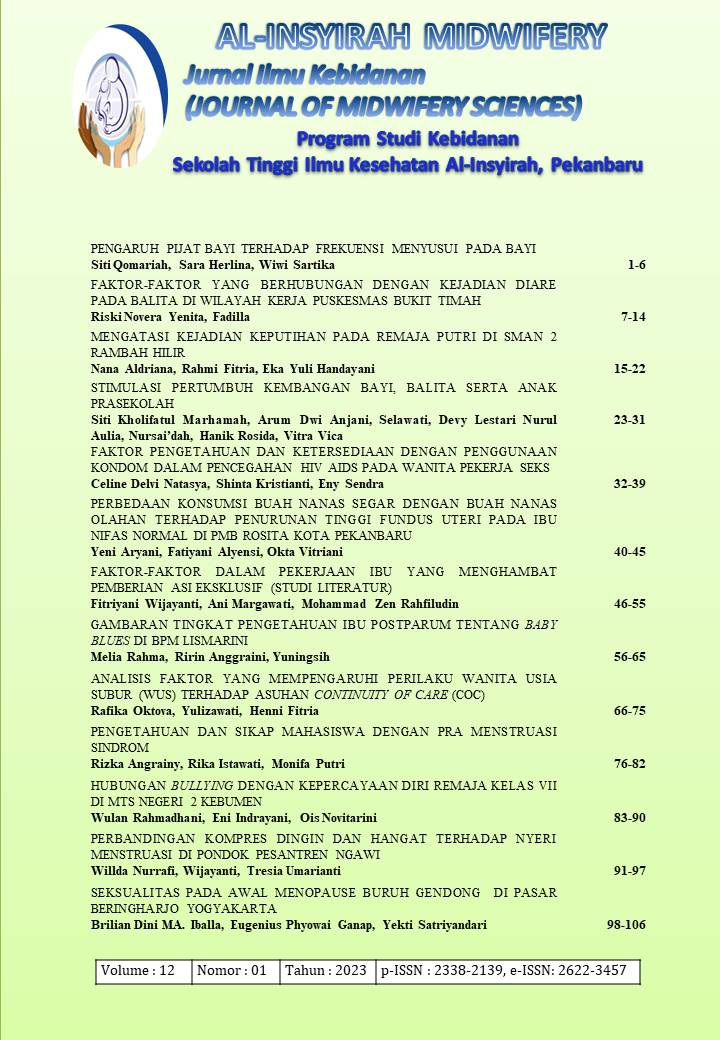 Downloads
How to Cite
marhamah, siti kholifatul, Dwi Anjani, A., Selawati, S., Lestari Nurul Aulia, D., Nursai'dah, N., Rosida, H., & Vica, V. (2023). STIMULASI PERTUMBUH KEMBANGAN BAYI, BALITA SERTA ANAK PRASEKOLAH. Al-Insyirah Midwifery: Jurnal Ilmu Kebidanan (Journal of Midwifery Sciences), 12(1), 23–31. https://doi.org/10.35328/kebidanan.v12i1.2324
License
Copyright (c) 2023 Al-Insyirah Midwifery: Jurnal Ilmu Kebidanan (Journal of Midwifery Sciences)
This work is licensed under a Creative Commons Attribution 4.0 International License.