PERBANDINGAN KOMPRES DINGIN DAN HANGAT TERHADAP NYERI MENSTRUASI DI PONDOK PESANTREN NGAWI
Universitas Kusuma Husada Surakarta
Keywords:
Pain, Menstruation, Warm Compress Therapy, Cold Compress
Abstract
ABSTRACT
Background: Menstrual pain is something that occurs before and during menstruation which can interfere with activities. The prevalence of dysmenorrhea in Indonesia is 60-70% of women. Cause discomfort, interfere with daily activities, overcome pharmacological and non-pharmacological menstrual pain. Purpose: To compare the effectiveness of cold compresses and warm compresses to reduce menstrual pain. Methods: This study was a quasi-experimental. Samples were taken by purposive sampling technique with a total of 52 female students. Data collection used the NRS 0-10 observation sheet. Data analysis used the Wilcoxon Test and the Mann Whitney Test. Results: The average menstrual pain before and after being given a cold compress was (4.3) to (3.92). Whereas before and after the warm compress given was (3.69) to (1.92). Furthermore, the Wilcoxon test means that there is a difference between before and after the warm compress technique with a Sig. (0.000) and cold compresses with a value of Sig.(0.003). Because in the normality test there are data that are not normally distributed on the results of the difference test using the Mann Whitney test with the result (p = 0.000), there is a difference in the decrease in menstrual pain with warm compresses and cold compresses. Conclusion: warm compresses are more effective in reducing menstrual pain
References
Ammar, U. (2016). Faktor risiko dismenore primer pada wanita usia subur di kelurahan ploso kecamatan tambaksari surabaya. Jurnal Berkala Epidemiologi, 4, 37–49. https://doi.org/10.20473/jbe.v4i1.37-49
Anugraheni, V., & Wahyuningsih, A. (2013). Efektifitas Kompres Hangat dalam Menurunkan Intensitas Nyeri Dysmenorrhoea. Kediri. Jurnal STIKES Baptis, 6(1).
Irawan, F. D., Sudiwati, N. L. P. E., & Dewi, N. (2018). Perbandingan Tekhnik Relaksasi Nafas Dalam dan Kompres Dingin Terhadap Penurunan Tingkat Nyeri Haid (Dismenorea) pada Mahasiswi di Asrama Sanggau dan Ikatan Keluarga Belu di Landungsari Kota Malang. Nursing News, 3, 572–583.
Maimunah, S., Sari, R. D. P., & Prabowo, A. Y. (2017). Perbandingan Efektivitas Kompres Hangat dan Kompres Dingin sebagai Terapi Non-Farmakologis Dismenore pada Remaja. Medula, 7(5), 79–83.
Misliani, A., & Firdaus, S. (2019). Gambaran Derajat Dismenore dan Upaya Penanganan Dismenore dengan Cara Farmakologi dan Nonfarmakologi pada Siswi Kelas X di MAN 2 Rantau. Jurnal Citra Keperawatan, 7(1), 23–32.
Rosyada Amalia, A., Susanti, Y., & Haryanti, D. (2020). Efektivitas Kompres Air Hangat dan Air Dingin terhadap Penurunan Intensitas Nyeri pada Remaja Putri dengan Dismenore. Jurnal Kebidanan Malakbi, 1(1), 7. https://doi.org/10.33490/b.v1i1.207
Seingo, F., Sudiwati, N. L. P. E., & Dewi, N. (2018). Pengaruh Kompres Dingin Terhadap Penurunan Intensitas Nyeri Pada Wanita Yang Mengalami Dismenore Di Rayon Ikabe Tlogomas. Nursing News, 3(1), 153–163.
Silviani, Y. E., Karaman, B., & Septiana, P. (2019). Pengaruh Teknik Relaksasi Nafas Terhadap Dismenorea. Journal of Midwefery, 1(1), 30–37.
WULANDARI, W. (2021). PENGARUH KOMPRES HANGAT TERHADAP TINGKAT NYERI DISMENORE PADA REMAJA DI DUSUN II DESA TERUSAN KABUPATEN MUSI BANYUASIN. STIK Bina Husada Palembang.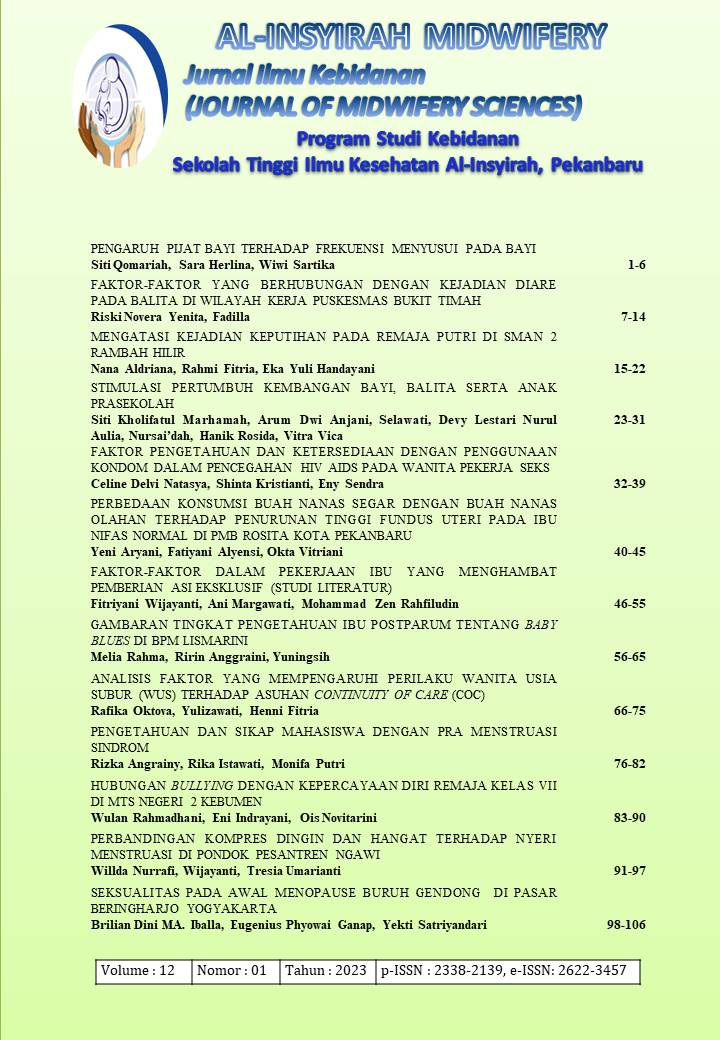 Downloads
How to Cite
Nurrafi, W., Wijayanti, W., & Umarianti, T. (2023). PERBANDINGAN KOMPRES DINGIN DAN HANGAT TERHADAP NYERI MENSTRUASI DI PONDOK PESANTREN NGAWI: Universitas Kusuma Husada Surakarta. Al-Insyirah Midwifery: Jurnal Ilmu Kebidanan (Journal of Midwifery Sciences), 12(1), 91–97. https://doi.org/10.35328/kebidanan.v12i1.2338
License
Copyright (c) 2023 Al-Insyirah Midwifery: Jurnal Ilmu Kebidanan (Journal of Midwifery Sciences)
This work is licensed under a Creative Commons Attribution 4.0 International License.