ANALISIS PERILAKU SEKS BEBAS PADA REMAJA DI SMA NEGERI 01 RANGSANG
Keywords:
Keywords : Free Sex Behavior, Youth, Religiosity, Family Role, School Role
Abstract
Sexual behavior in adolescents who cross the fairness limit carried out by adolescents has a big impact on adolescents and their partners. Data from UPT Puskesmas Tanjungsamak Subdistrict stimulates teenagers who have free sex in 2016 as many as 3 cases and in 2017 there were 10 cases. The purpose of the study was to determine the factors that influence free sex in adolescents at SMA Negeri 1 Rangsang, Kepulauan Meranti Regency. This research was conducted from February to August 2018. Quantitative research method with cross sectional design. The research sample of 174 people taken from 309 students and students of Class X and XI of SMA Negeri 1 Rangsang in Kepulauan Meranti Regency was taken by random sampling. The research instrument uses a questionnaire Data analysis was performed univariate and bivariate using chi-square test, 59.8% having good religiosity, 62.6% stating high family roles, 60.3% stating high school roles , 54.0% had bad free sex behavior. Statistical test results showed that there was a significant relationship of religiosity (p value = 0.002), family role (pvalue = 0.000), school role (p value = 0.002) and information media (p value = 0.004) with free sex behavior in adolescents in Rangsang 1 Public High School Meranti Islands. It is expected that the Head of SMA Negeri I Rangsang can collaborate with the Tanjungsamak Health Center to provide counseling to their students about reproductive health in adolescents.
References
Alfarista. 2013. Hubungan Sumber Informasi dengan Perilaku Seksual Berisiko Remaja di Kecamatan Sumbersari Kabupaten Jember. Universitas Muhammmadiyah Jember.
Ali, M dan M.Asrori. 2004. Psikologi Remaja. Jakarta : PT. Bumi Aksara.
Ancok, J dan Suroso. 2001. Psikologi Islam: Solusi Islam Atas Problema Problema Psikologi. Yogyakarta: Pustaka Pelajar.
BKKBN. 2011. Policy Brief Pusat Penelitian dan Pengembangan Kependudukan. Seri I No.6/Pusdu-BKKBN/.Diakses tanggal 08 Januari 2018.
Hurlock, E.B. 2011.Psikologi Perkembangan. Jakarta: Erlangga.
Husaini, Ibnu. 2015. Hubungan Antara Religiusitas Islam dan Perilaku Seksual Pranikah pada Mahasiswa Universitas Esa Unggul. Fakultas Psikologi Universitas Esa Unggul
Sarwono,S.W. 2012. Psikologi Remaja. Bandung: PT Bumi Siliwangi
Soetjiningsih, C.H. 2008. Faktor-faktor yang Mempengaruhi Perilaku Seksual Pranikah pada Remaja. Disertasi. Program Pendidikan Doktor Psikologi UGM.
Yusuf, S. 2014. Psikologi Perkembangan Anak & Remaja. Bandung: PT Remaja Rosdakarya.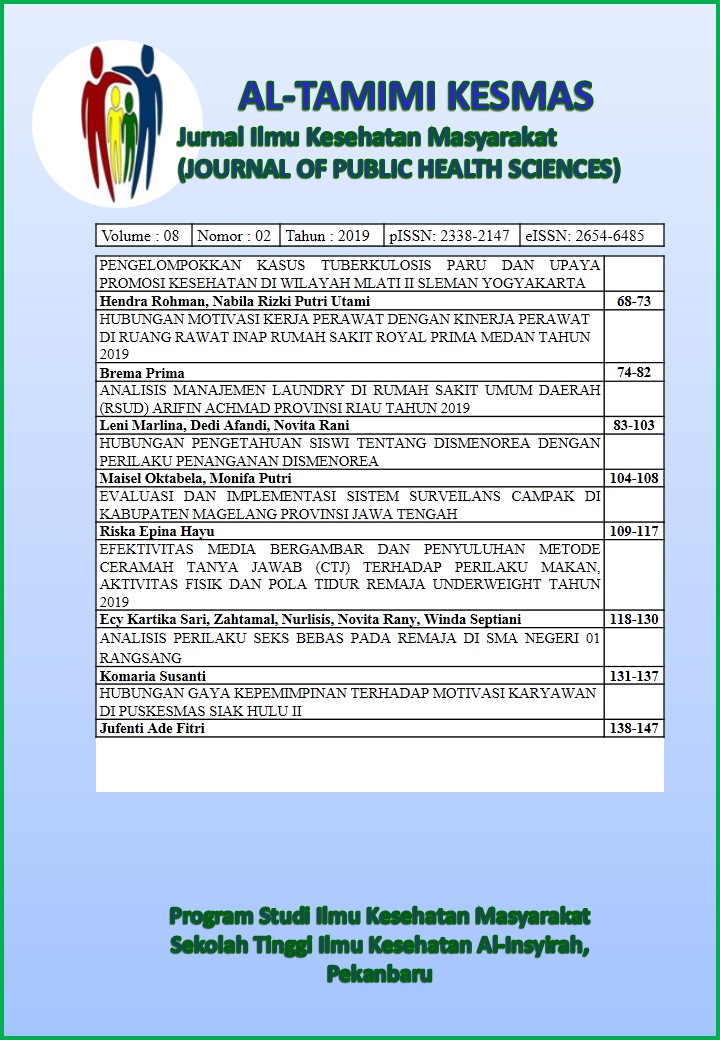 Downloads
How to Cite
ANALISIS PERILAKU SEKS BEBAS PADA REMAJA DI SMA NEGERI 01 RANGSANG. (2020).
Al-Tamimi Kesmas: Jurnal Ilmu Kesehatan Masyarakat (Journal of Public Health Sciences)
,
8
(2), 131-137.
https://doi.org/10.35328/kesmas.v8i2.550